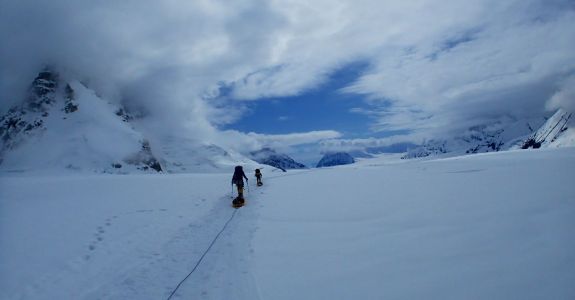 My fellow exile and I made the hike all the way down to basecamp yesterday from 11,000′ in around 5 hours through blue skies, cool temps and dramatic cloud formations (photo on blog post) swirling all around around us providing protection from the searing sun as well as amazement. It was the best part of the trip to be sure and we hoofed it to prove a point.
After 5 days sleeping in a storage room next to the airport and 6 days on the mountain I find myself back in civilization marveling at modern conveniences like showers, toilets with seats and beds that don't need to be blown up.
My Decision
Climbing Denali is a serious challenge with life or death consequences, and having had time to reflect and weigh the options I've come to a decision; I don't like to quit, and that is a point of pride for me, often to a fault. Being hardheaded as I am God has to slam a lot of doors in my face to get my attention and I'm feeling his hand here. So I'll give my pride a rest and take what I have learned and attempt Denali again next year with a more informed action plan.
Danger Network Going Offline
I will be writing a trip report, photo album, ETC and will let you know when it's posted to the Highpoints Page, but aside from that the Danger Network is going offline until the next adventure.
Thank You All
I want to thank everyone for the messages of encouragement while I was up there, and especially Danielle at #GrabTheGold the purveyor of those amazing snack bars that were the core of my nutrition plan. Here's a Grab The Gold Endorsement Video I shot for you at 11,000′ in appreciation of your sponsorship and support.