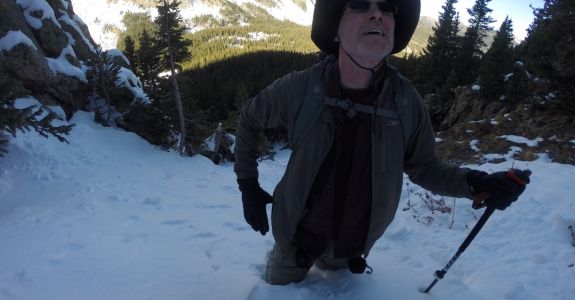 We had some excitement on the return trip which I blogged about in the Return Trip Challenges post. However the repairs held and we made it back home from New Mexico without further mechanical issues. The climb was a hard won success, and I just barely managed to carve another notch in my ice axe. The Wheeler Peak trip report is posted in its entirety right here.
To view a sortable table of all of the highpoints with completion dates, trip reports, photo galleries, blog entries an GPS tracks, visit the US State Highpoint Progress Page.
Wheeler Peak Trip Report
On Wednesday, October 28th of 2015, after fighting my way up steep slopes through deep snow, I fought to stand in 60+ MPH winds atop the 13,161′ summit of Wheeler Peak the highest mountain in New Mexico.
This highpoint trip was taken in "BigByrd" our 41′ motor coach and it was #40 out of the 50 states for me.
Highpoint Statistics:
Summit Date: Wednesday, October 28th of 2015
State: New Mexico
Elevation: 13,161′
US Rank by Height: 8th
Round Trip Hiking Distance: 8 Miles
Round Trip Hiking Time: 13 Hours
Highpoint Links:
Photo Gallery
Posts
Trip Report
GPS Track