"I like to get me summa dat essential oil n' rubit on my elbows real good." – A Louisianan discussing essential oils with Susan.
Susan and I are off on another adventure in "BigByrd" our 41′ motor coach. Typically we plan every leg and make reservations ahead of time, but this time we decided to go totally unscripted. This will give us the freedom to be a bit more exploratory along the way. We need to be back in town by October 5th, so time permitting we intend to visit the highest points in 6 states; West Virginia, Maryland, Pennsylvania, Ohio, Indiana, Missouri. We will be driving through those states in that order, so if you know of anything cool along the way, reply to this message and let us know.
Welcome to Louisiana
We set out yesterday afternoon and spent the evening in The Frenchman's Wilderness Campground in St. Martin Parrish Louisiana. While exploring the area we happened upon a tiny backwoods pub called the Levee Rat. The patrons applauded uproariously as we entered which we quite enjoyed. And as we were being seated, a local by the name of Leon approached and commented on how nice we smelled. While I was basking in the glow of all of the positive reinforcement, Susan explained to Leon that it was Citronella, an Essential Oil we were using to keep the mosquitoes away. Leon who was apparently intimately familiar with essential oils said; "I like to get me summa dat essential oil n' rubit on my elbows real good." Susan cut the conversation short and proceeded to be seated. I never got a good look at Leon's elbows, but I'm sure they're very impressive.
It did not dampen our spirits when we later learned they were not applauding for us, but for a particularly clever joke, at least by Louisiana's standards of humor. I never heard the joke, thus cannot comment on its jocularity. I was however glad that I resisted the urge to take a bow. We also are pretty sure that Leon was insane.
Navigation Fail
Upon leaving the park this morning I turned the wrong way (totally Susan's fault) and we were chased 5 miles along the levee road by a massive piece of equipment that handily took up both lanes of the narrow road. It was being escorted by an anxious police office who wanted us to pull off onto a steep berm to let them pass which I refused to do. We could not turn around until we got to a large yard full of other such equipment which turned out to be the destination of the convoy. So we waited for them to pull past us and went on our way after being chastised by the escorting officer. It would have been challenging had we turned the correct direction and come nose to nose with this mammoth, as there was no place adequate to turn the coach around on the narrow road. So the wrong turn was in fact a blessing.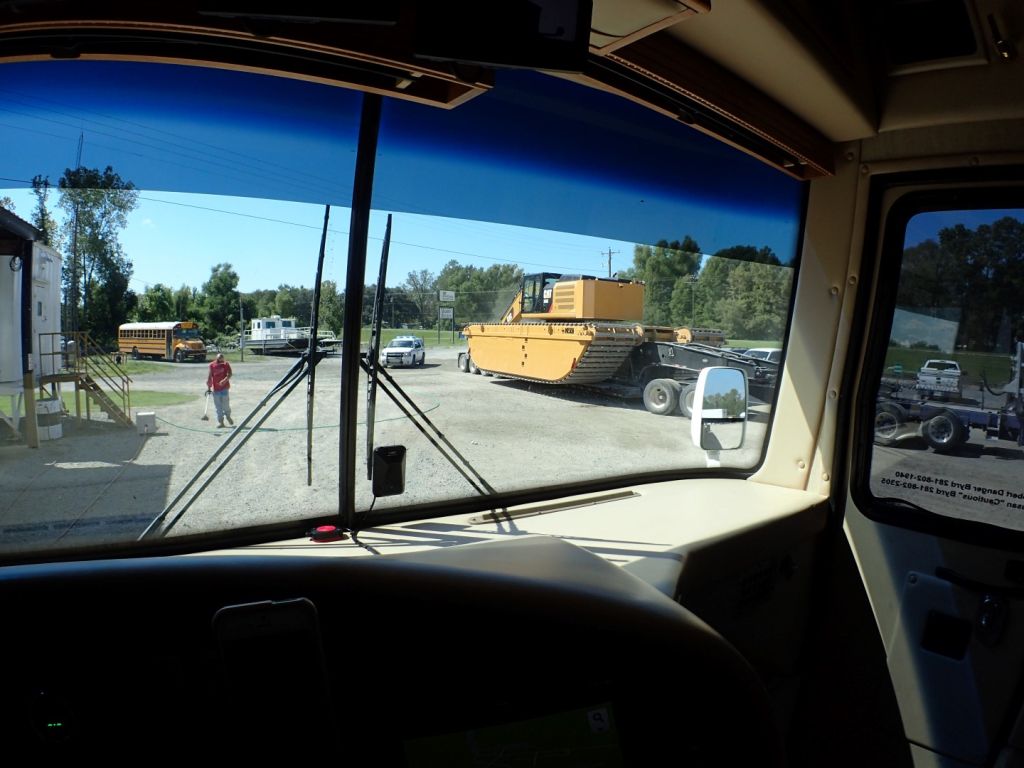 Truck Stop Tiger – An Apparently Endangered Species
While Exxon might put as tiger in your tank, the Tiger Truck stop actually has a real live 500 lb Bengal tiger who lives in a sprawling habitat complete with ledges, pools, and a large bowl of meat. Apparently some tree huggers want to evict the tiger from his truck stop digs in favor of a public zoo, so the Truck Stop Tiger might not be around much longer. You can read about it here and even sign the petition to save the tiger's truck stop habitat if you are so inclined. I can say the tiger looked fat and happy to me, and any public zoo tiger would no doubt be quite envious of his totally cold pimping crib.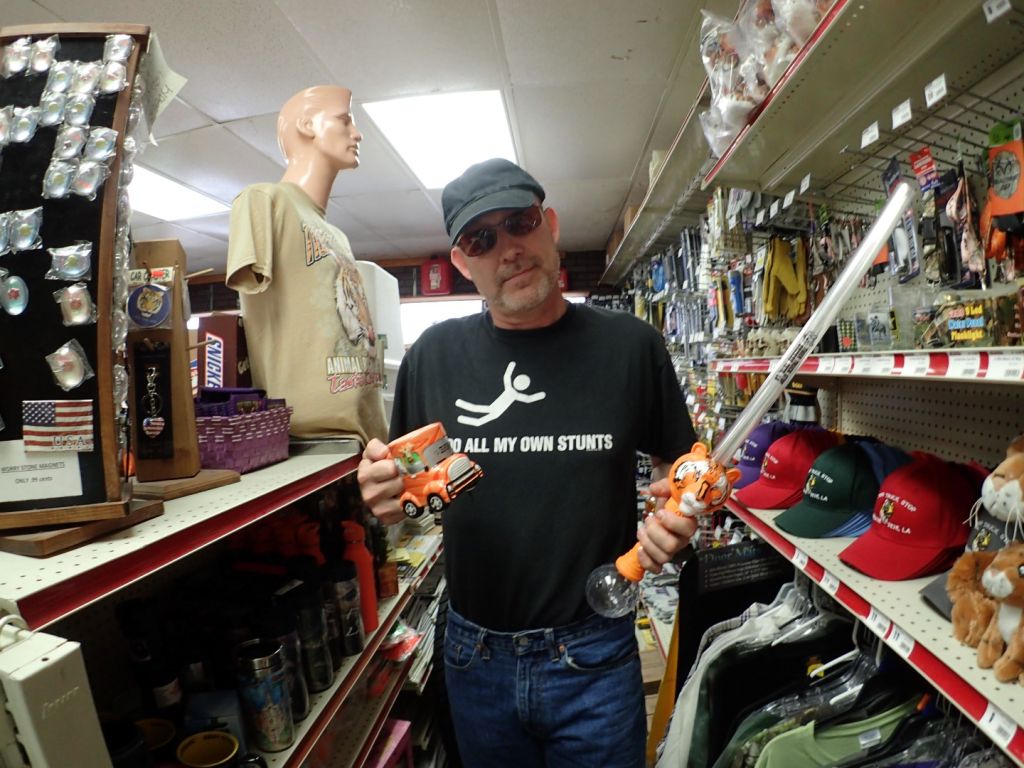 In the gift shop they sold ice cream, sandwiches, booze, CB gear, and a bewildering array of tiger memorabilia. It was a hard decision whether to buy the granddaughter the tiger cup or the tiger sword.
Goodbye Louisiana
We wont be coming back this way, so we say our goodbye's to Louisiana as we pass into Mississippi, not sure where we will be staying tonight, but that is half the fun.
Comments
comments