We have clocked 2,036 miles in BigByrd and crossed from Ohio into Indiana earlier today. After completing the Indiana highpoint around mid-day, we decided to push straight through to East St. Louis Illinois. Having already spent a fair amount of time in Indiana I was keen to do something new. I have never been to St Louis, and since we are ahead of schedule we will spend some time there before we do the Missouri highpoint and head back to Texas.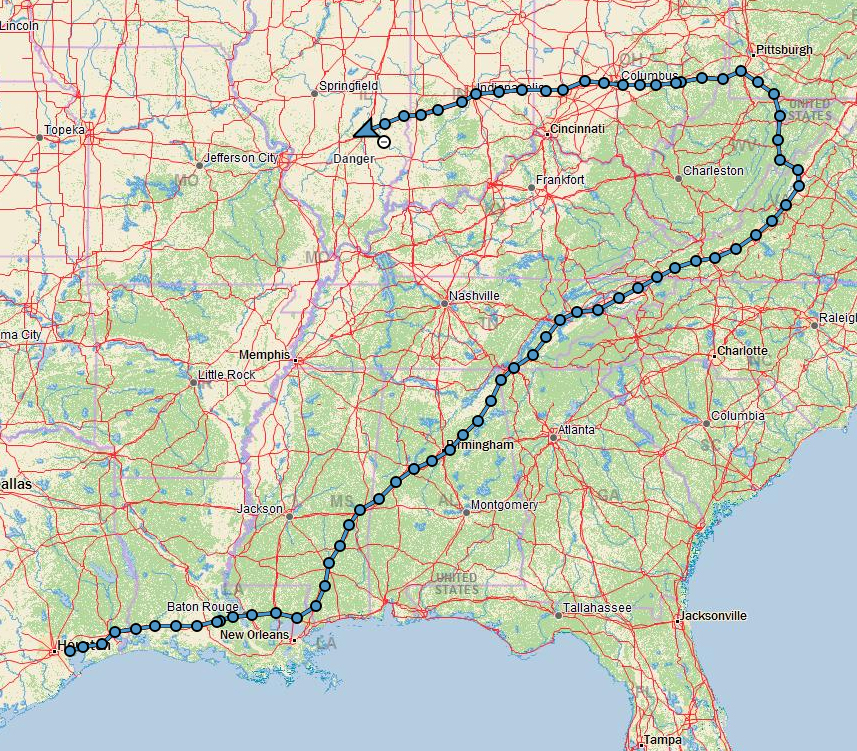 The Hoosier Hill Trip Report is posted below in its entirety.  You will find links to all of my highpoint trip reports & photo galleries on the US State Highpoint Progress page.
Hoosier Hill Trip Report
On Sunday September 27th of 2015, I found myself sitting on a rock and not just any old rock mind you. This particular rock rested at the lofty elevation on 1,257′ making it the highest rock in Indiana. This was highpoint #5 of 6 completed during our  2015 East Central Trip and it was #38 out of the 50 states for me.
Highpoint Statistics:
Summit Date: Sunday September 27th of 2015
State: Indiana
Elevation:1,257′
US Rank by Height:44th
Round Trip Hiking Distance: NA
Round Trip Hiking Time: NA
Highpoint Links:
Photo Gallery
Posts
Trip Report
Susan, Samson and I completed this highpoint together. It was a short 20 minute drive from I-70 where we left our motor coach at a Cracker Barrel.
The day was perfect for a drive through the countryside which was mostly populated with farms, with some regular homes sprinkled in among them.
At the High Point
The highpoint is located on private property at the edge of a corn field and just inside the treeline.  Google maps took us straight to it.
It was a pleasant day, with cool temperatures and a light breeze. The trees admitted a diffused light around the highpoint area which was equipped with a picnic table, a mailbox with a visitor register and a rock.
I looked for the USGS marker, but could not find it, although I did find a geocache drop with two school buses and a shift knob.
So I sat on the rock and took a photo.
Samson was not at all impressed with the rock and really didn't want to be on it. He kept jumping down despite being told to say. I had to threaten a bath to convince him to stay put.
The average elevation of this region is around 1,100′, and the highpoint is only slightly higher than the surrounding landscape of gently rolling farmland. So there are no dramatic vistas to be had here, but we did enjoy the peace and quiet and the beauty of the surrounding farmland.
Last Stop
An interesting footnote is that A.H. Marshall, the first person to successfully reach each U.S. state highpoint completed his quest in 1936 after standing atop Hoosier Hill.
Comments
comments