Passed into the Land Of Enchantment half an hour ago and many large and juicy bugs had to die to get us here. Next stop, Albuquerque New Mexico, and yes I had to rely on the spell checker for that one. We will head north from there on our way to Wheeler Peak which at 13,161' is the state highpoint of New Mexico.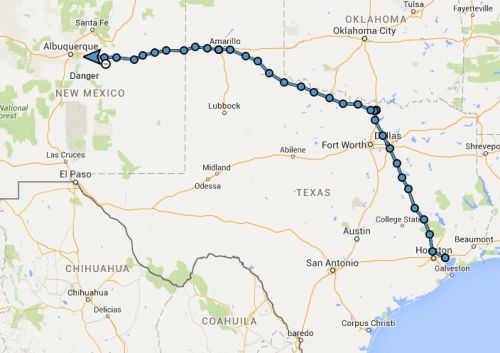 BigByrd
Once again, we are traveling in our remodeled 41' motor coach we lovingly call "BigByrd". The new 200 Amp computer controlled alternator is performing flawlessly, however the 4 year old house batteries are weak, so I bridged the house bank with the chassis bank again to steal power. Before the next trip, I plan to convert to one large AGM bank which will eliminate battery maintenance which I despise and boost us from 450 Ah to 900 Ah (able to pull 900 amps DC current for a full hour).
It really pays to have a chauffeur, as I'm able to get quite a bit of work done. It's not cheap though, this one I have to buy expensive cars, clothes and jewelry.
A 72 Ounce Steak
Last night we stayed in Amarillo Texas, and obviously we dined at the Big Texan Steak Ranch home of the 72 Oz Steak challenge. It costs $72 dollars, but if you can eat it in one hour, it's free. I was going to take the challenge, but Susan exercised her veto powers. I was in the mood to do something totally out of control, so I bought some fudge instead.
The Big Texan is  a Texas institution and there is a lot of interesting history here. The original Big Texan was opened in 1960, along Route 66 by R. J. "Bob" Lee. The towering sign of a long-legged cowboy that Bob erected next to the building became a distinct landmark on Route 66. The steak challenge began in the early years and became wildly successful as a marketing campaign. Even if you yourself have not been here, you have probably heard of the Big Texan.
In the early 1970s, Interstate Highway 40 replaced Route 66 as the major traffic lane so Bob Lee purchased land along the route for the new highway and built a bigger and better Big Texan Steak Ranch along I-40. The iconic giant cowboy, was moved by helicopter from its original location to the new restaurant where he stands long, tall and proud today.
Cadillac Ranch & Crashing Drones
We originally were going to head straight up to Taos from Amarillo, but are diverting to Albuquerque to get some parts for my photography drone which I crashed while trying to shoot some sunset footage of Cadillac Ranch. It was of course totally Susan's fault.
If you have never stopped by Cadillac Ranch, you are missing out on another interesting bit of Texas history. It's a series of Cadillac's representing the major line changes  buried nose down. It was conceived by Chip Lord, Hudson Marquez and Doug Michels and funded by Stanley Marsh III an eccentric Texas oil man. The cars are completely stripped now, but most were running when it was originally installed. Today they are covered in a layers of graffiti several inches thick, which grows every year. Interesting side note, the cars are buried at the same angle of the Great Pyramid of Giza in Egypt.
Sources:
https://en.wikipedia.org/wiki/Cadillac_Ranch
http://bigtexan.com
Comments
comments