We are 1'173 miles, 145 gallons of water, 2 Walmarts, and one audiobook into the trip. Tonight finds us in Iowa, camped in a completely empty RV park, next to Hawkeye Point.
Today had us driving through idealistic rolling farmland, with stolid granaries, presiding over neatly fields of cultivated fields stretching into the horizon. Finding ourselves in such remarkable scenery, is one of the great rewards of this highpointing journey. Being in places, so utterly American that you just want to lift your hands to God in praise for the purple spacious skies.
Today was a very good day, I drove the 8 hours from Topeka where we stayed in our second Walmart of the trip to the Iowa highpoint. The Topeka Walmart was built on the site of a the Chief Drive Inn Theater, and as a nod to that bit of history, they left the Chief Drive In Theater neon sign intact. You can read more about that tidbit of history here.
The goal was to be at the Iowa highpoint at sunset, and we had a couple of hours to kill, so we stopped in Omaha Nebraska at Lewis and Clark Landing where we used our folding bikes for the first time. We rode across architecturally remarkable the Bob Kerrey Pedestrian Bridge.
We also made our way to the adjacent Heartland of America Park, where the patrons apparently come to look at their phones rather than the beautiful surroundings. I call it "I Heart My Phone More Than This Park" Park.
We arrived at Hawkeye Point an hour before sunset as planned, and realized that there was an RV park right next to it and decided to camp there. We found it curious that it was completely and utterly empty, as we have never seen that before.
Highpoint Hog
Susan and I walked over to the highpoint, but there was this weird guy on the there drinking beer and eating bananas (who does that), so we didn't actually stand on the highpoint.
There really was a weird guy there hogging the highpoint, and he was shooting a video and loudly calling out names, must have been over a hundred of them, as he went on for some time.
I did shoot a few interesting sunset photos, but this highpoint is going to be best at sunrise, so we plan to have breakfast on the highpoint in the morning, which we have never done before, and mark it officially completed. This will also be the first highpoint that we have seen at sunset and sunrise.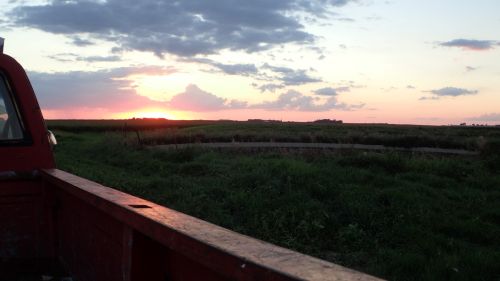 Comments
comments