Denali Alaska 2015 Trip Report
"Praise God I made lt! I now stand on the 20,237′ summit of Denali, the highest point in the USA & the entire North American Continent!"
That was the message I sent from the summit, and I figure that's a pretty good way to start this trip report. I considered injecting some humor, such as "Hey, I can see my house from here!" But given the enormity of the moment, a somber acknowledgement seemed more appropriate.
I tried Denali in 2014 and didn't make it, which made success this time around all the sweeter. This was state highpoint #29 for me and this is the story…
Lessons from 2014 Attempt
My first thought when I reflect on being sent back down the mountain in 2014, is that it was probably for the best. I don't believe I would have had the strength in 2014 to perform higher on the mountain, as even with the dramatically more intense training which put me in the best shape of my life the move from 14K to 17K during the 2015 climb was very challenging.
This gave me a chance to sort out my gear and shave 60lbs off my load for 2015. I created a complete spreadsheet with every single item in my kit and weighed everything with a laboratory grade scale. Then I looked for lighter versions of everything. I also modified some gear, drilling holes, removing unnecessary components & re-engineering to make things lighter or more functional. Here is the gear list.
I also shaved 20lbs from my own manly frame, and also increased my muscle density and strength considerably. There is a post about my training here.

Goodbye Atanas, we hardly knew you
Say hello and goodbye to the 37 year old vegan Atanas Skatov who hails from Bulgaria. He was attempting to climb the highest summit of each continent on a vegan diet. He was fully sponsored and had spent the last two years of his life doing nothing but climbing and lacked only Denali. While in Talkeetna it became obvious to everyone that Atanas was erratic in his behavior. In his final outburst, he told one of the assistant guides that he would not listen to them but only the lead guide, and a decision was made to remove him from the team. He hung around Talkeetna for a week or so trying to get onto the glacier, made a few scenes, but nobody was willing to take him.
The Talkeetna Hang
In 2014, we were stuck in Talkeenta for 5 days waiting for the weather to clear so the air taxi could drop us at basecamp. This time, we were stuck in Talkeetna 4 days. I've spent enough time in Talkeetna to know my way around pretty well and have gotten to know a good many people. I even thought of tossing my hat in the ring for mayor. Currently the mayor is a very liberal cat with no tail, and I'm sure I could take him.
Danger the Magnificently Unequivocally Grand Eloquent
Magic is a hobby of mine, and I was practicing some sleight of hand and when a local by the name of Larry happened by and invited me to perform at open mike night at the Historic Fairview In Saloon. I accepted, and this was the first time I had performed magic for more than a handful of people at the same time. There were 35-40 people in attendance and there was no booing or fruit throwing, so I'll mark it as a success. Still working on my stage name, I went with Danger the Magnificently Unequivocally Grand Eloquent, but I I it might have been a bit over the top. I can never tell.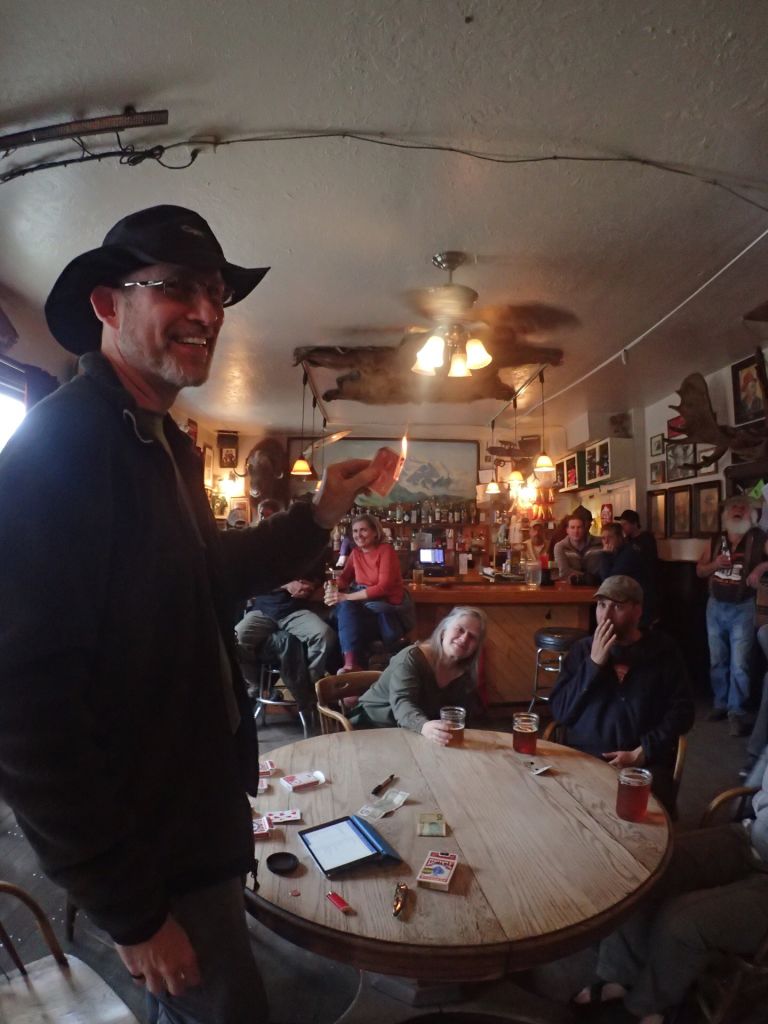 Hang Time
During the days, we spent a lot of time waiting by the runway suited up in case the weather lifted. There were a few false started where we loaded the plane and waited, only to be disappointed.
Day 1 – Finally on the Glacier
After 4 days in Talkeetna we finally set foot on the glacier. Given the hour was late, we made camp and settle in for the night.  I met a climber named Roger Gregory from Houston who was camped next door and learned that we have some common friends.
Day 2 – Moving to Camp 1
The first few days are the heaviest as you are carrying your own kit, plus group loads such as food, tents, fuel, shovels and such. During my first attempt in 2014 my load leaving base camp was 178lbs including pack, sled and and the clothes and equipment I was wearing. As you climb you begin to cache along the way trimming the load, so the struggle gradually shifts from heavy loads to thin air.
Made Camp 1 Without issue and day was very easy for me and I never felt out of breath. It was hot but the new layers worked perfectly. Travelled 5.4 miles and average was 1.2mph
Day 3 – Caching
Carried all the way to 11.2 camp bypassing the cache. I was surprised at how easy it was this time. New sun shirt and cold layers were awesome. Almost lost a glove but caught it with a trekking pole. we saw a tent get blown away but someone was in its path and dove for it. I would say the difficulty was 5-10% of my training.
This trip report is incomplete, but I am working on it.