Mt Washington Trip Report
Monday October 26th 2014, Susan and I stood on the cold and windy 6,288 summit of Mt Washington the highest mountain in New Hampshire. This was highpoint #7 of 8 during our Northeast Trip and was an easy drive up.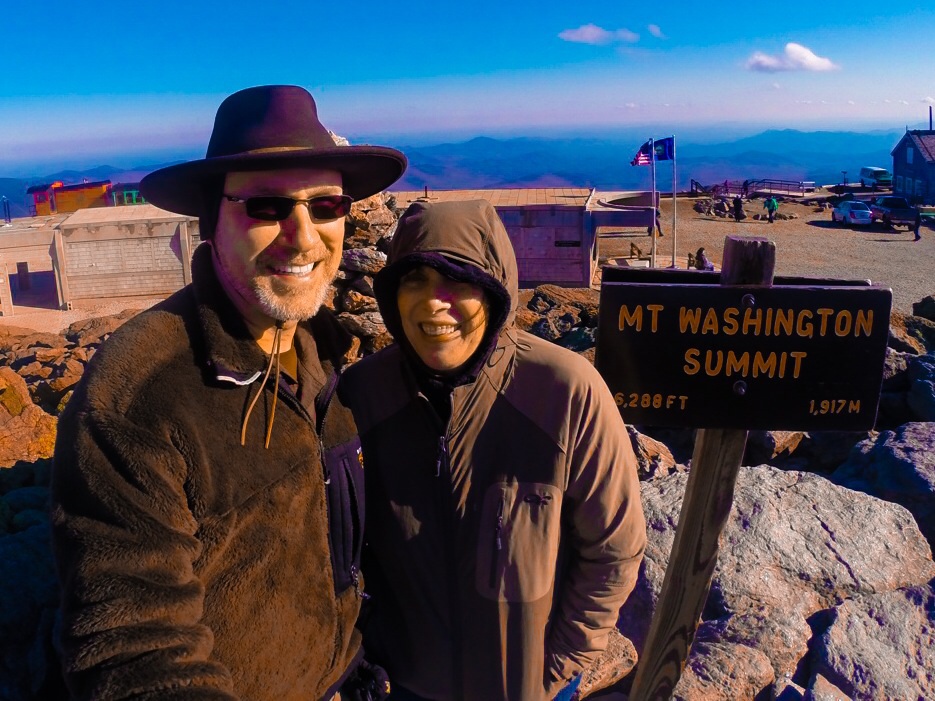 Summit Date: Monday October 24th 2014
State: New Hampshire
Elevation: 6,288′
Distance: Negligable
Mt Washington is known for its extreme weather. Winds speeds exceeding hurricane force occur an average of 110 days per year. From November to April, these strong winds are likely to occur during two-thirds of the days. Mount Washington once held the world record for directly measured surface wind speed, at 231 mph (372 km/h), recorded on the afternoon of April 12, 1934. It is still the highest winds observed by a human being, and here is the full account of that harrowing event.
Visitors have the option of taking a cog train up, or driving the historic Auto Road which is a privately owned scenic road completed in 1861. The Auto Road is an engineering marvel even by today's standards. Even more impressive is the relatively primitive methods with which this feat was accomplished as this was before the invention of earth moving machinery and dynamite. You can also get to the top via several 8-10 mile hiking routes gaining 4,000′ or so. Susan was not ready for a hike of this magnitude, so we opted for the Auto Road and were glad we did as the drive up the mountainside was colorful and beautiful.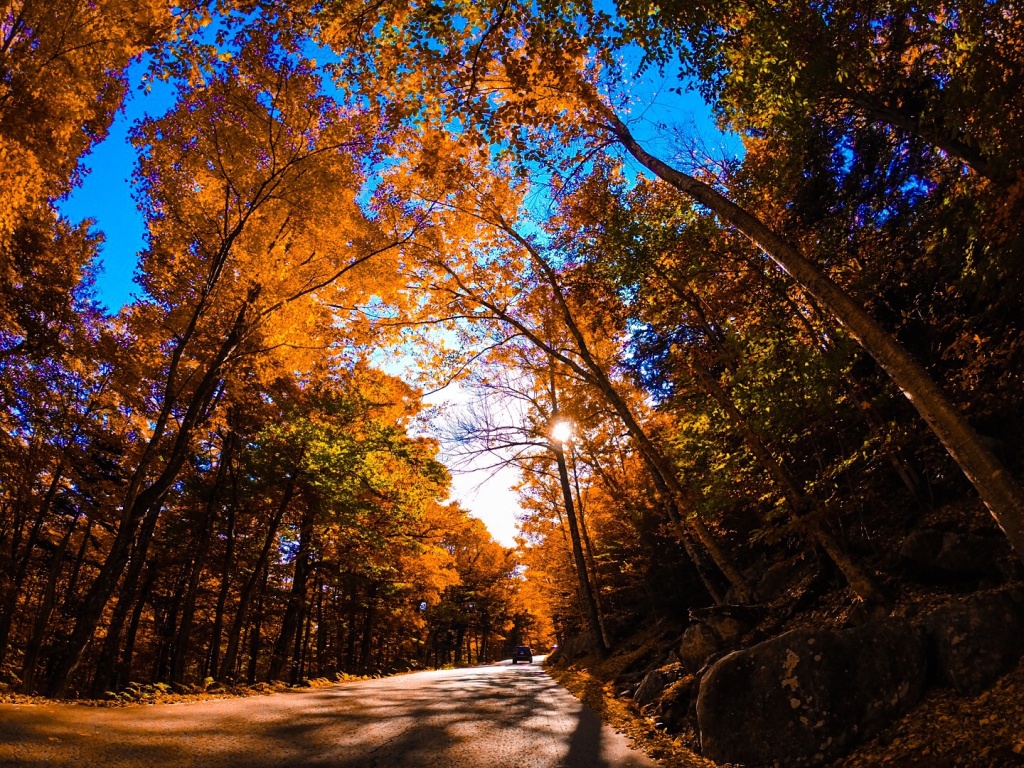 Once at the top, we found a day of rare sunshine and clear skies making it a perfect day to be on the mountain. Even so the temperature was 19 degrees with wind chill, but this did not deter the long line of people queued up for summit photos who were wearing everything from high heels to flip flops. The views off is this mountain are not the best, and I found it difficult to find any particular picturesque scenes to capture. I found a less populated section of the summit with a nice valley view and some interesting clouds and setup for a few sillouette photos using the remote WiFi trigger via iPhone on my Olympus TG-3. The wind was very strong and knocked me back a few times with strong gusts. You can see my pants leg whipping backwards in this shot. When I turned around I found a line of people taking pictures of me taking pictures of me, which I found humorous.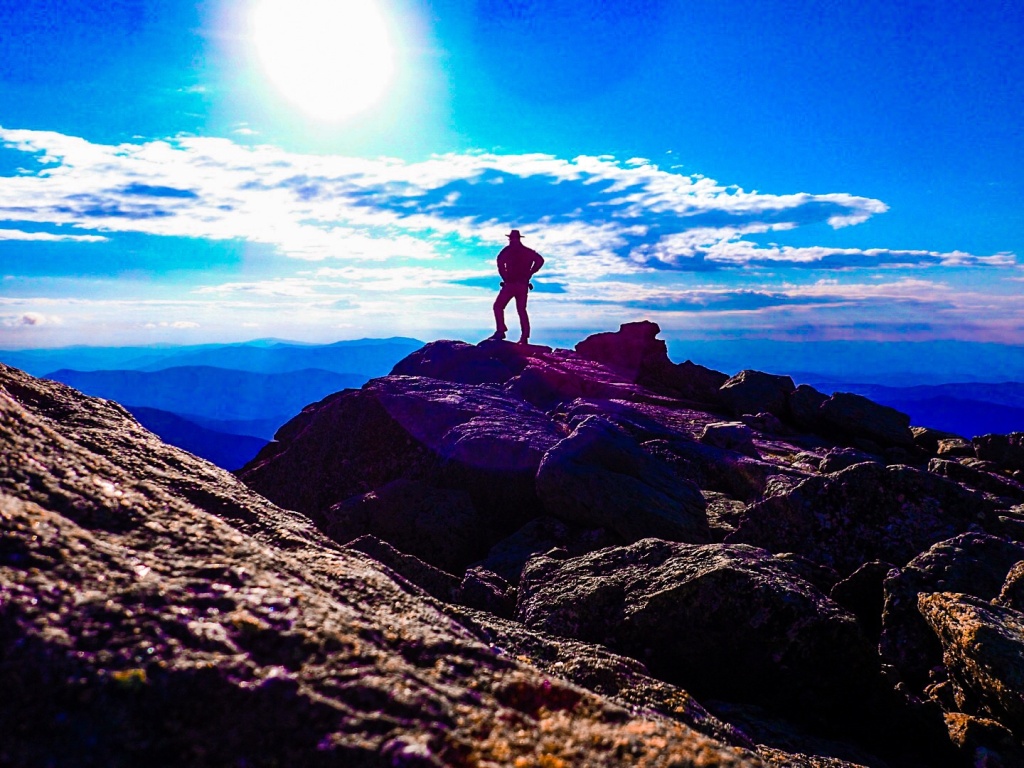 At the top was a gift shop, an observatory and the historical Tip Top Lodge, which is no longer in operation but serves as a museum which reminisces glory days of time long past. The gift shop is literally chained to the top of the mountain to keep it from being blown off.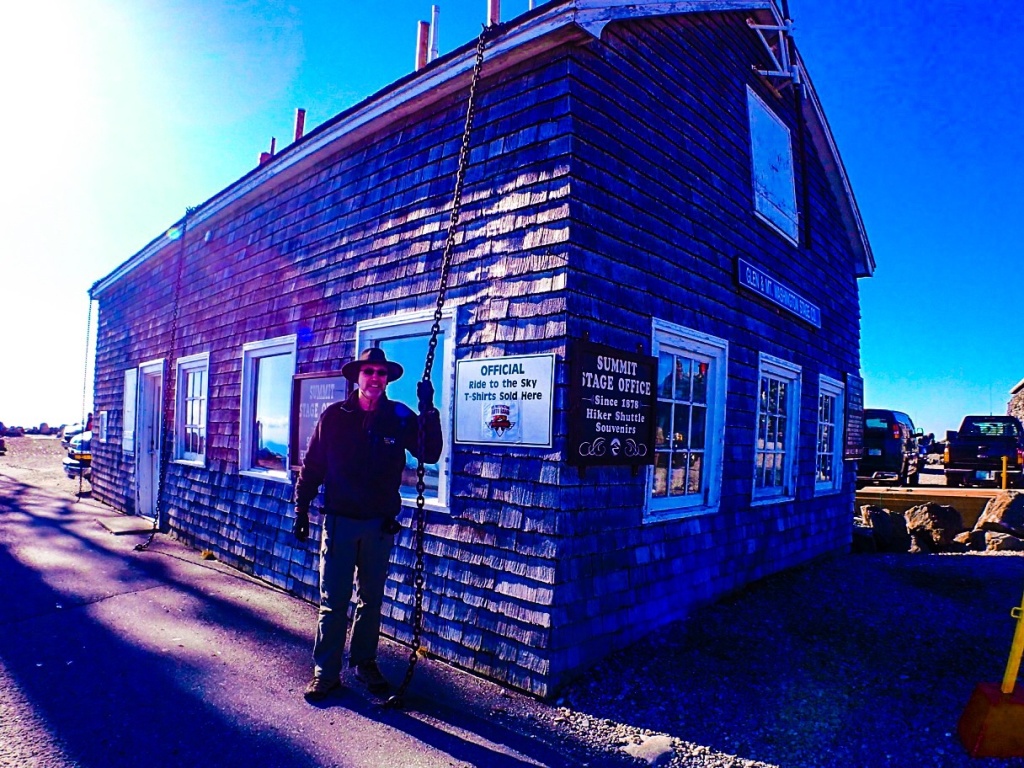 The sun was still shining but shadows were forming for trip down the mountain. The grade is very steep and hard on brakes so there were many areas to pull off to let brakes cool. We stopped to take a picture and smelled burning brakes, but it turned out to be the brakes of the range rover next to us. We got to the bottom without incident and checked another state highpoint off the list.