Mount Marcy Trip Report
On January 10th 2015, I stood atop the summit of Mount Marcy the highest mountain in the state of New York. My long time friend and climbing partner Rick Overholt joined me on this climb, but opted not to join me on the summit.
Statistics
Completed: January 10th, 2015
State: New York
Elevation: 5,343′
Distance: 15 Miles
Time: 2 Days
Highpoint Links
Blog Posts
Photo Gallery
GPS Track
Mount Marcy was state highpoint #27 for me, and this was Ricks second bite at the apple. Yes, I know that's a weak New York reference, but I'm quite comfortable with my mediocre writing skills. Besides if you wanted Hitchcock, you wouldn't be here. The time window was chosen because it historically presented the worst weather. Not because I like the sound of chattering teeth, but to gain more extreme winter camping experience and test run my systems in preparation for a second Denali attempt in June of 2015. Rick had already bagged Mount Marcy in the summer months and hated it. It was a hot, humid slog through a muddy bog swarming with man eating insects. He had sworn a blood oath never step foot on Mount Marcy again, but the sound of chattering teeth does appeal to Rick so when I floated the idea of a winter ascent, he signed on without much persuasion.
Extreme Weather Report
Prior to the climb, Rick and I had been watching the weather via Mountain Forecast and when the wind started trending upward finally hitting 80MPH and wind chill temps dropped down to -58F we knew it was going to be a wild ride.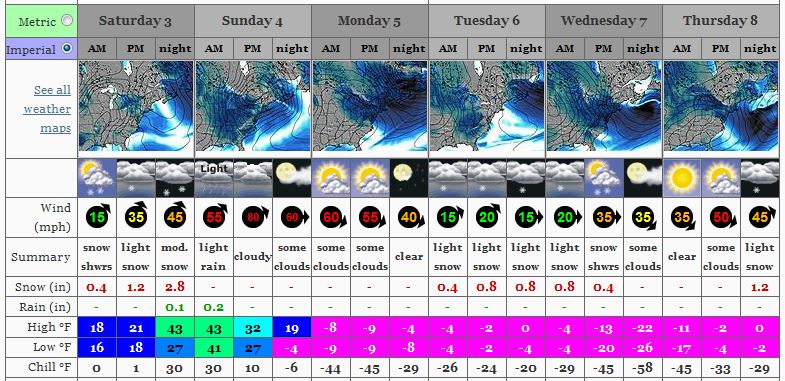 We took the 15 mile round trip Van Hoovenburg route which starts near the Adirondack Loj. Yes, it's spelled Loj and not Lodge. There is probably a story behind that, but perhaps they just don't know how to spell in Upstate New York. It was 8 degrees (-13F w wind chill) at the Loj the night we arrived but the Loj was warm and cozy in side with a fire blazing in the hearth.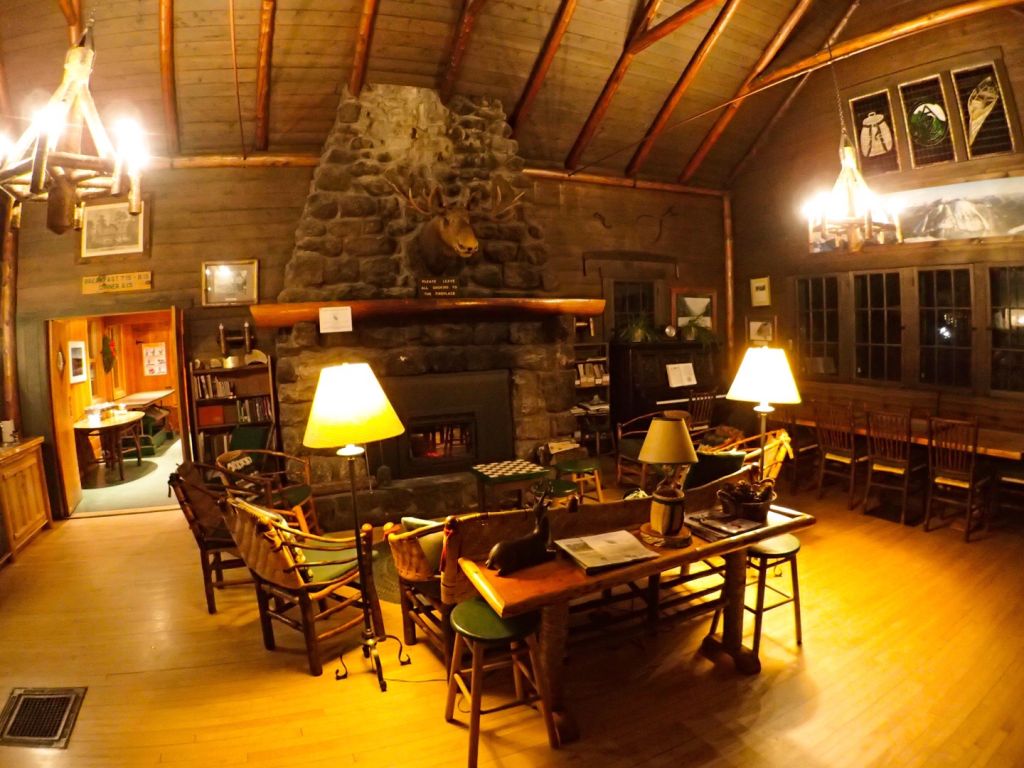 The quality of the accommodations and the service was excellent. The staff was friendly, helpful and made us feel welcome. We were especially appreciative when they made us a hot meal after we came back from our climb, long the kitchen was closed. These are the names of the staff I remember and they all get the "Danger Seal of Approval"; Bailey, Ashley, Kayla, Barrett, Philamina & Rachel who I had a crush on in high school. Not this Rachel, but a long ago paragon of perfection who I was head over heels for. My undying love was unrequited as she didn't know I existed, so in the end it did die, although it was a slow death.

Breakfast With 911 Heros
We came down early for a hearty Loj breakfast, but ended up getting away late because we met a couple of New York City Fireman; Mike Doorkings and lieutenant Ray Brown of Ladder 113.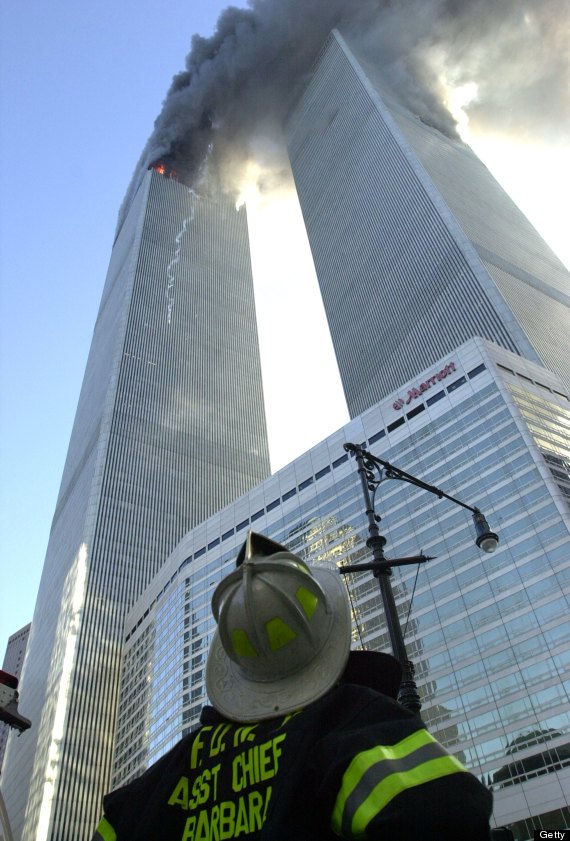 Ray held us spellbound with his account of that fateful day in 2001. He was inside attempting to rescue people from the Marriott Lobby (centered in photo) which sat adjacent and was connected to both towers via it's open lobby when the second tower came down. He was one of about 20 people who survived. I don't believe I can do his story justice, so I'll leave the telling of it to the professionals: here is Ray's full account.
And So It Begins
It was around 8 degrees when we set out around 9:00 AM, with a tolerable wind. The hike through the forest was magnificent, with trees heavy with snow. The low forest was populated with deciduous trees which didn't hold much snow.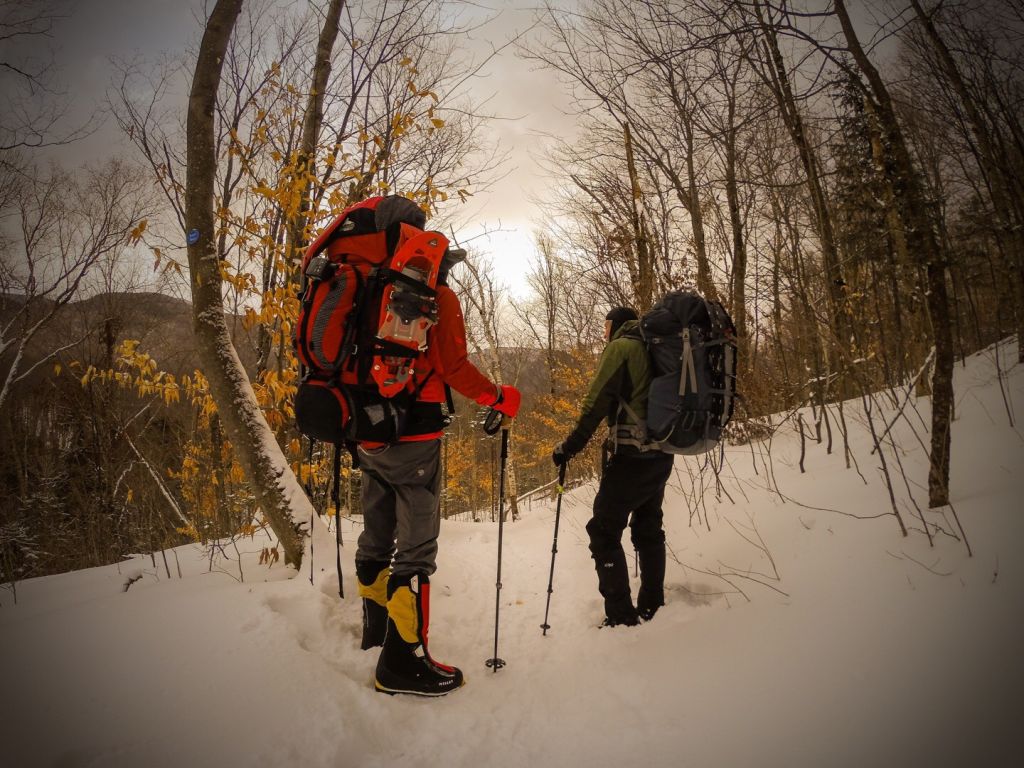 As as we climbed into the evergreens, it was a winter wonderland populated with millions of Christmas trees. We hiked about 6 hours in and made camp at 3,980′ staying below the 4'000 foot maximum camping altitude imposed by the park service.
Side Rant:
The park does not want you walking on the endangered plants, which is all well and good, but those same plants are now covered by a thick blanket of snow. At the very least, they should open up the park during the winter months to allow us to enjoy more of it.
Many parks these days have goofy rules generally imposed by bureaucrats who think nature can't take care of itself. I've been on mountains where they hand you thin plastic baggies at the trailhead instructing you how to poop in the bag, so you can bring it back with you and "leave no trace". I saw these baggies left behind all over the mountain, because most people are understandably reluctant to toss a turd in their backpack. I'm sure they mean well but they are trying to preserve the park for the enjoyment of future generations by denying it to ours. And yes, I did carry my own turds out. In fact I had them cryogenically frozen and can present them for inspection to any tree hugger who would like to verify.
Making Camp
It was close to 3PM when we started setting up camp. In conditions where sub freezing temps and tornado force winds are typical, your shelter is your life. I had purchased a Hilleberg Jannu expedition grade tent specifically designed for high winds that comes with no fewer than 15 anchor points. Rick and I both like living, so we were motivated to make it bombproof. First we looked for a site that had good tree cover and blocked as much of the wind as possible. Then we had to deal with the snow which was dry and powdery and resisted sticking together. We stomped shoveled and cursed it for a good 30 minutes before we finally got it somewhat consolidated so it would hold anchors.

When pitching a tent in snow, you do what's called a deadman anchor. This means you dig a trench perpendicular to the guy wire and bury the tent stake, log or snickers bar (yes there is another story there) sideways. Having consumed our last Snickers Bar on the hike in, and not liking the loose feel of the small supplied pegs, we used logs. No need for the tree huggers to get excited, we didn't cut any trees down. All employed logs were disenfranchised, out of work and looking for gainful employment. We also ended up using a couple of live standing trees at opposite corners of the tent and felt pretty good about our new home. This all took quite a while and was further complicated by the necessity of gloves and the fact that it was dark, windy and snowing a lot.
We needed a kitchen, and it was too cold and windy to cook outside, and the vestibule was too low to cook in, so we dug a 2′ deep pit inside the vestibule to make our kitchen. This allowed one of us to sit in the tent and hang our legs into the pit to cook. By this time, we were ready for dinner. Rick is an excellent chef and boiled the water to pour into our freeze dried meals.
After dinner, the next order of business was melting snow for water. I brought a SOTO MUKA white gas stove, which is lightweight, very efficient and works well in low temperatures. We filled the bottle half way which should have been more than enough fuel based on the math. Unfortunately the feed tube on the MUKA denied us the use of the last 20% of the bottle. We had enough to replenish our water, but would have a cold breakfast come morning. Fortunately we brought enough rations so we would not be short on calories. This type of activity burns 5,000 plus calories a day, so you have to eat a lot. Also, the snow was pretty hairy, literally. It had pine needles, bark, dirt and yes, hair in it. The detritus while innocuous was a bit disconcerting to feel sliding down my throat. The boiling kills everything, but I'll bring a strainer in the future just the same.
It was around 8:00PM when I sent my final blog update; "2 miles from summit, making camp was tough in loose powder, new tent strong but small. Dug pit in vestibule to make room for cooking & melting snow for H20." Shortly thereafter, we climbed into our expedition grade sleeping bags and let sleep take us.

I was not alone in my bag, but had a collection of cold sensitive items such as water bottles, late night snack as well as breakfast and batteries. I also had socks I was drying (a warm bag's effectiveness at drying wet clothes is astounding) and the layers I would apply in the morning. My favorite companion was the water bottle still warm from our snow melting efforts that I kept between my legs.
A Silver Forest
Just before midnight, I was awoken by the silence and stepped outside to relieve myself. I did bring a 48-Ounce Flexible Pee Bottle, (this may seem like overkill, but I have filled a 32 Oz bottle before and wanted the headroom) but the tent was so cramped, I had reservations about using it. The wind had died down and I went outside to find a clear sky over a serene forest with snow covered trees glowing silver in the moonlight. The scene was magnificent and typically I would have setup for some night photos, but the extreme cold sent me scrambling back inside to the warm embrace of my down sleeping bag. Rick was aggressively snoring, but I had no trouble surmounting that obstacle and slept until morning.
Summit Day!
I was awoken again by the absence of snoring, and saw it was just before 7 AM. Seems that we had not adequately vented the tent and the moisture from our breaths had formed a thin layer of ice that fell on us at the slightest provocation. I had slept in my first and second layers, so I was ready in a flash. The wind had started up again, although we were well protected by the trees.
We had a cold breakfast and set out for the summit by 7:15. We were breaking trail through fresh powder all the way up and it was a lot of work. We were wearing crampons, but would have been better off with snowshoes. Ranger Jim had told us the snow was like concrete, and this was confirmed by a couple of experienced climbers we met coming down the day before, but the fresh snow we got during the night had changed the situation. Undaunted, we climbed up the mountain through a pristine snow covered forest.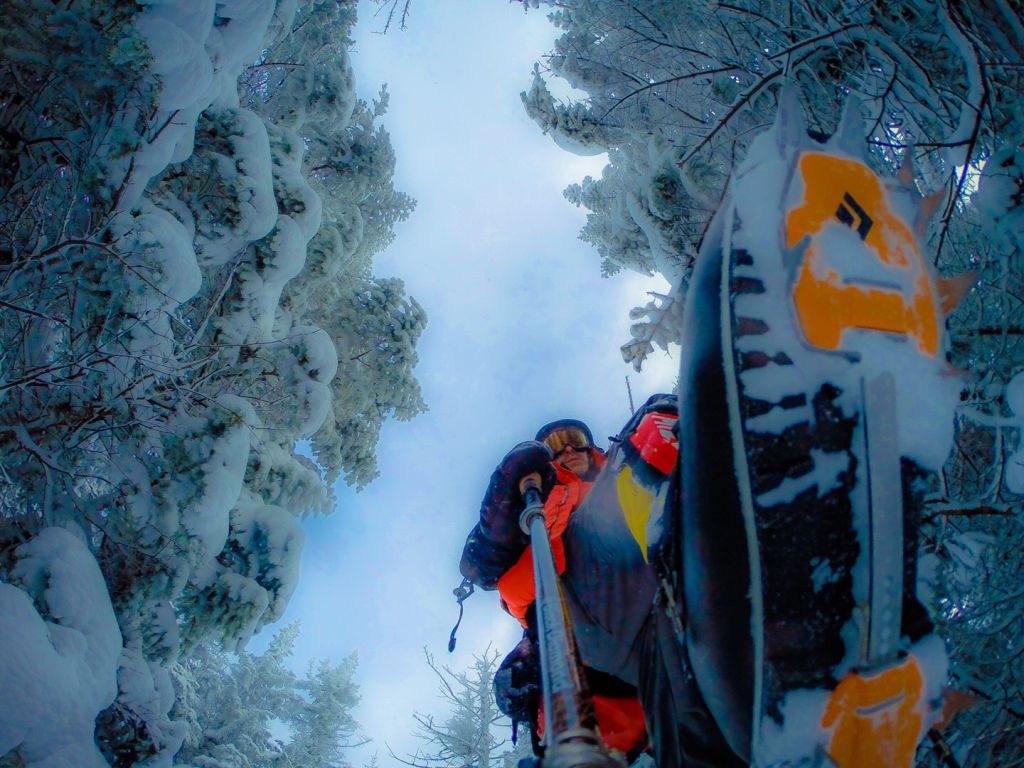 Lost!
The trail was obvious until we got near the summit which was covered in deep soft powder up to the tree tops in places. We were breaking through the thin top crust every half dozen steps and post holing up to our crotches taking a lot out of us. All of the trail markers were covered so we had to rely on the GPS track, but it ran us into a group of seemingly impassible treetops in a minefield of soft powder that made us fight for every inch gained. Climbing is hard, and doing it in deep powder is demoralizing. We consulted the map, but it showed the same seemingly impassible route.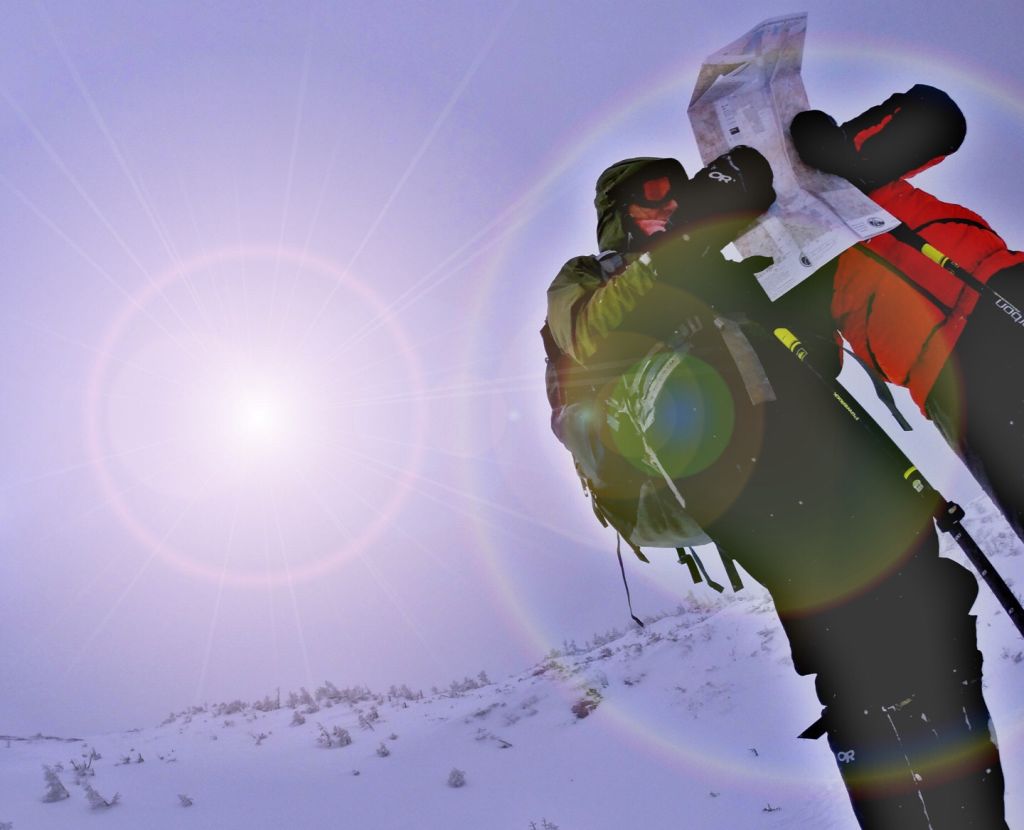 To make matters worse, I made the mistake of taking off my goggles to read the map. The moisture inside the goggles from my exertion instantly froze blinding my right eye completely, and leaving me a small hole down down low on my left eye requiring me to tilt my head awkwardly to peer out. I was eventually able to thaw them by slipping them inside my layers, but did the summit without the use of goggles, which was quite uncomfortable. Had the winds been much higher, I would not have been able to do this, so I'm adding a second pair to my kit. After casting about for nearly an hour in the wind and cold, we were both frustrated and tired. Rick decided to head back to camp around 11:30, but I did not want to have to change my middle name again, so I climbed on with Canadian climbers JD and Alex who were coming up behind us. We continued the search and found the trail after pushing through a wall of treetops in the general direction of the summit.
Once past the powder field it was dramatically steeper and much of the slope was covered with a slick hard ice, but this is where crampons shine and it was a welcome change.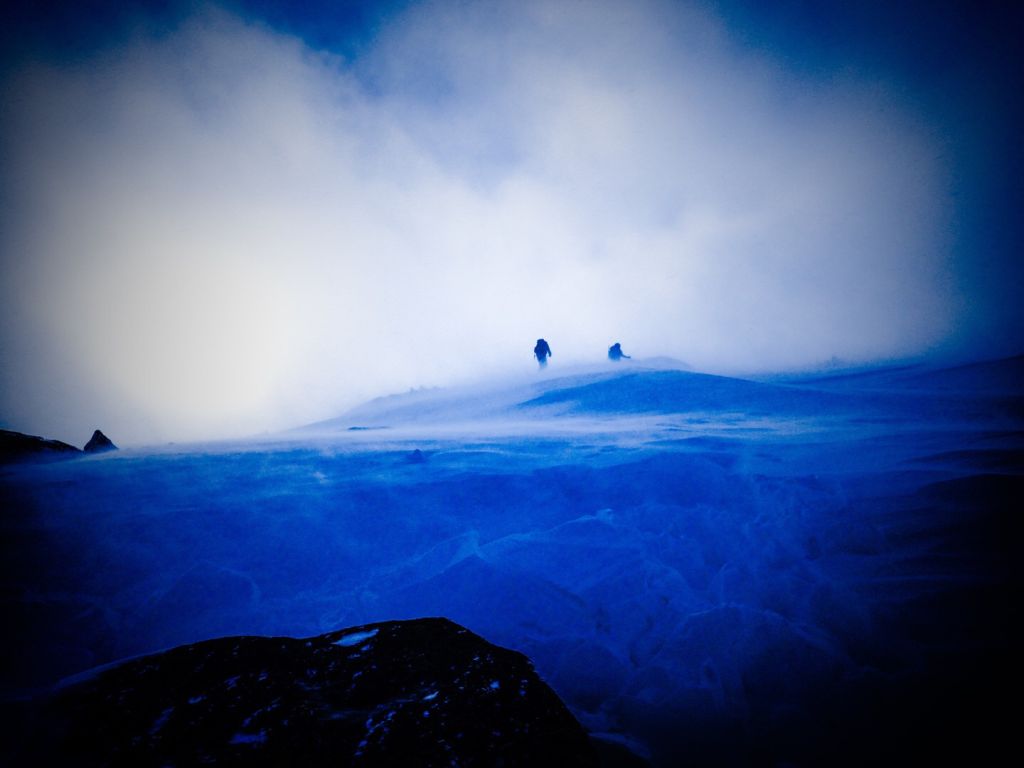 Welcome to the Top Of New York!
After a short steep climb, we reached the very windy summit around noon and were greeted by a by -9F temperature and wind speeds of 27MPH netting a balmy -34F with the wind chill factored in. While the visibility was poor, I'd classify the conditions as favorable considering the previous day sported 50MPH winds.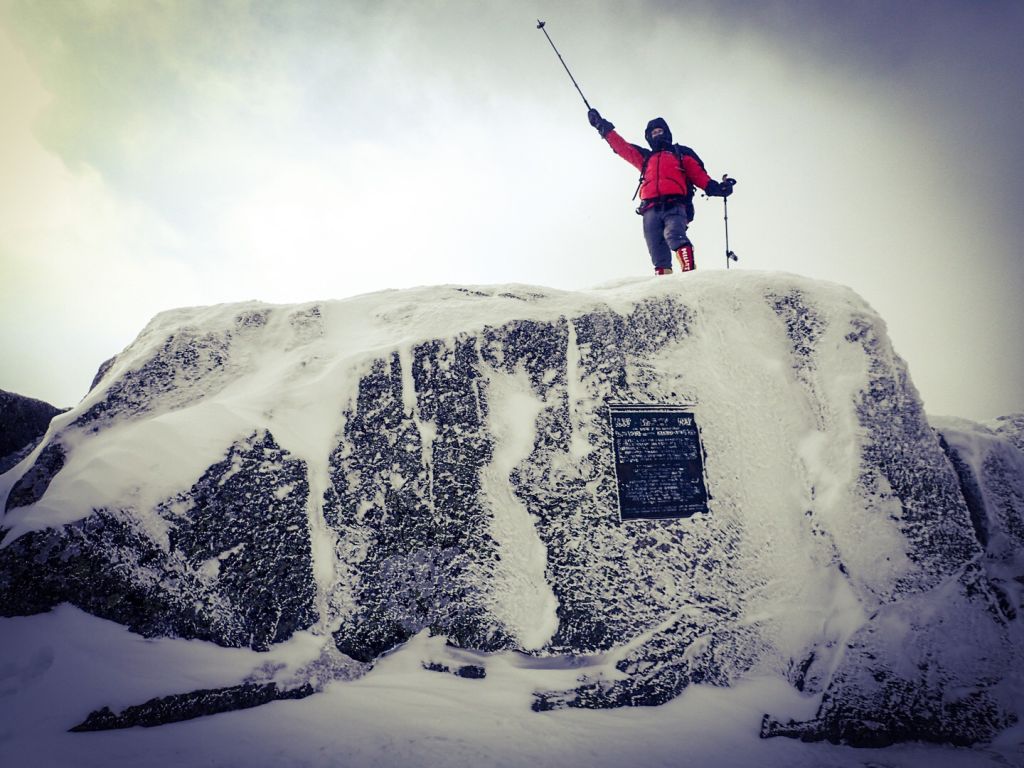 I stayed 20 minutes, took some photos and sent the following breviloquent blog update; "Made summit, not pleasant here, heading down now"
I was wearing 3 layers of gloves which kept my hands comfortably warm. However, in order to type the 2nd and 3rd layer of gloves must come off. Leaving only my first thin layer which are liner gloves which support texting. At -34 just a few minutes of this was enough exposure to be painful, and my fingers didn't warm up for quite some time, hence the radio silence. As I complete this trip report 6 days later, the fingertips of my right hand which saw the most exposure still feel a bit numb.
So with Mount Marcy in the bag, I started down climbing the icy slopes alone as my Canadian partners JD and Alex, went down the backside. I had my snacks on the move and descended as quickly as possible so Rick would not have to wait around a long time. I thoroughly enjoyed the solitude and beauty of the solitary hike back to camp and shot some of my favorite photos along the way.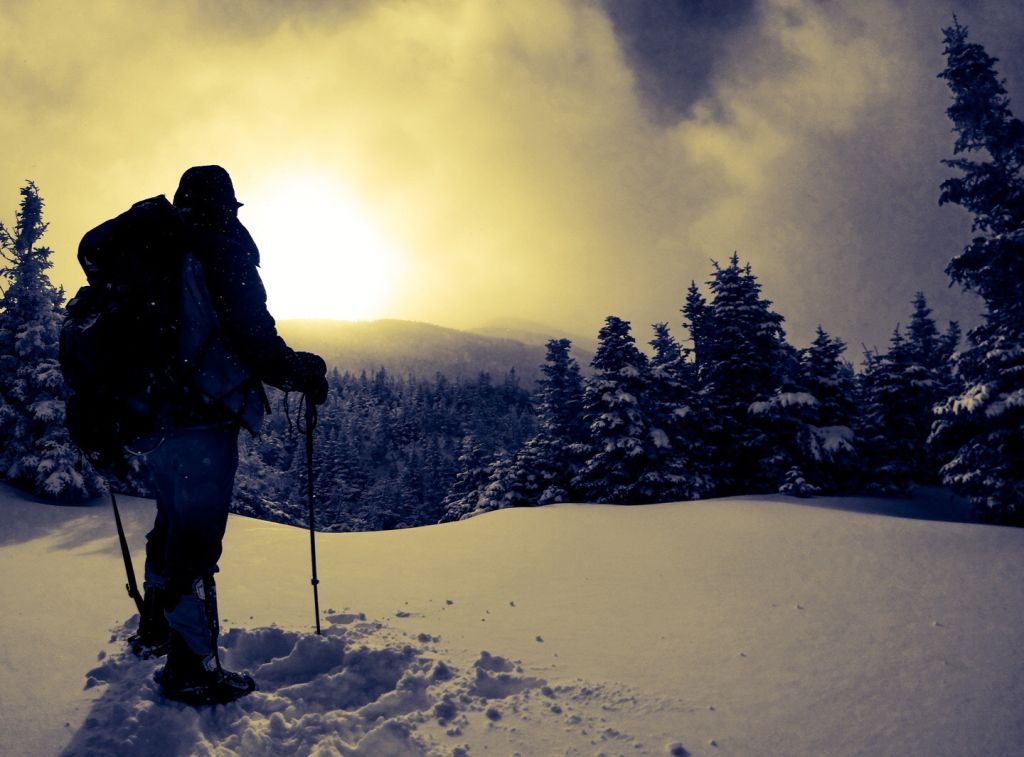 2PM found me back at camp. Rick was ensconced in the tent, but eager to break camp and descend. The snow had hardened around the dead man anchors, so it took quite a bit of digging to get them out and snow was everywhere requiring a lot of shaking and dusting to get the gear packable. Many of these tasks required the outer gloves to come off, so by the time we finished breaking camp, the cold had sank deep into my hands. So with wooden fingers I sent my final blog update from the mountain and we started down and hiked well into the evening.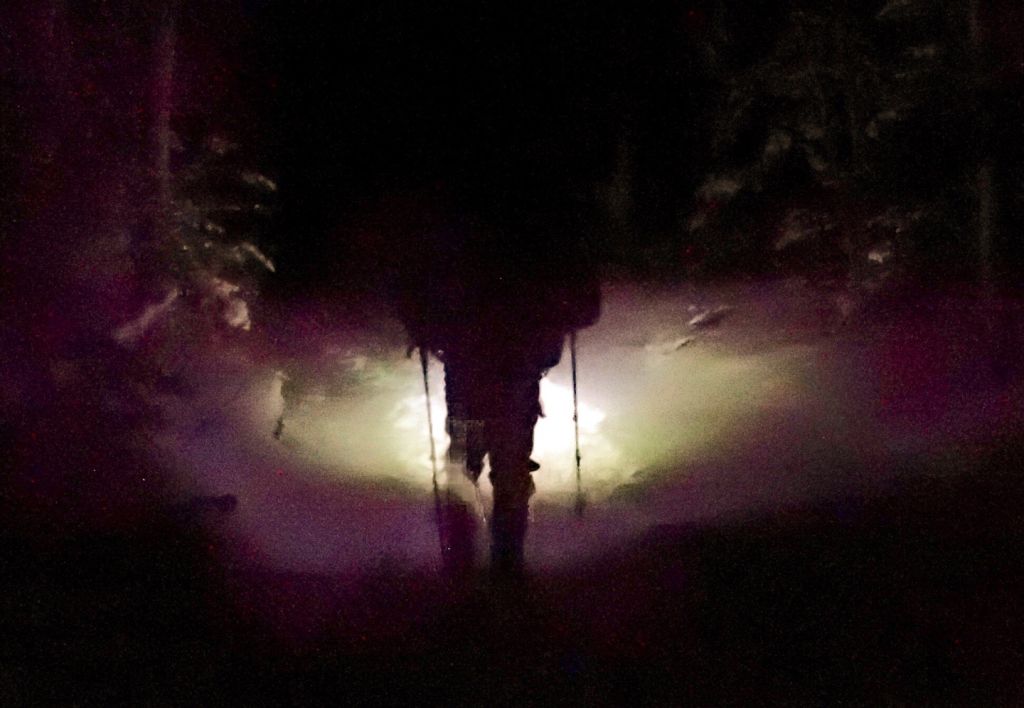 Back At the Loj
The hike out was not technically difficult but we were tired having expended a tremendous amount of energy breaking trail on the way up and fighting the deep powder near the summit. We arrived back at the Loj a little after 9PM putting in a 14 hour day.
There was a group city folk hanging out in the great-room who were dumbfounded to see us walking in from the weather, and even more so when they learned that we cad been out through the night. Neither of us were feeling especially sociable and headed for the showers before eating. They were kind enough to open the kitchen for us, and the hot meal was pure bliss. After dinner we tumbled into a single queen bed which was all they had. After being shoulder to shoulder in the tiny tent sharing a bed didn't phase us. I smiled, closed my eyes and barely had time to think "mission accomplished" before sleep took me.
Gear Performance
A secondary goal for this trip was to check out much of the gear I intend to use on Denali and it was very productive in that regard. I'd say working in gloves was the hardest thing and that system needs some improvement and I need to practice manipulating my kit with gloves on. I used hand warmer packets under my liners, and they were very effective. Goggles is the next issue and I'll carry 2 from now on (never-mind the weight penalty, being blind on a mountain can kill you), followed by a better face screen. The Nalgene water bottles did not work well as the water in the threads would freeze preventing a good seal. Also, the iPhone did not tolerate the extreme cold and would report low battery after being exposed for a matter of minutes so I'll either need to limit blog updates to my tent, or find another solution.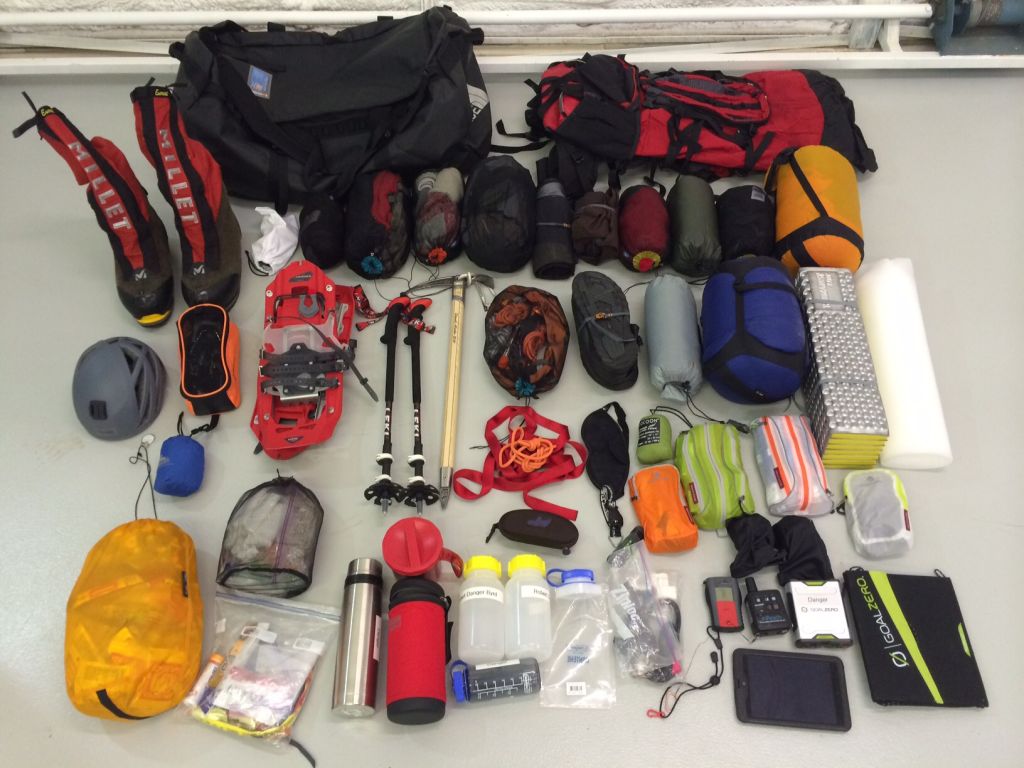 I was however extremely pleased with my layering system which proved lightweight, flexible and warm. At its heaviest with group gear, food, sled, ETC my Denali load was 177lbs so I have been keen to pare that back and have made tremendous progress on that front. I have also created a spreadsheet with the individual weights of all gear to help me make decisions and plan gear load-outs for each climb more precisely.
So concludes a very fruitful climb up the slopes of Mount Marcy. I have yet to meet her summer persona, but I'm sure her wintery side will always be my favorite.