Mount Elbert Trip Report
On August 10th 2014, I made the summit of the 14,440 feet Mount Elbert which is the highest peak in Colorado as well as the Rocky Mountains. It is also the second-highest mountain in the contiguous US, and the highest of the fourteeners of Colorado (the 53 Colorado peaks which rise above 14,000).
HTG Conference
Susan, Chris and I attended a technical conference put on by HTG in August of 2014 in Denver Colorado. This placed me very close to Elbert, a then unclimbed state highpoint, so we tagged a few extra days onto the trip.
Leadville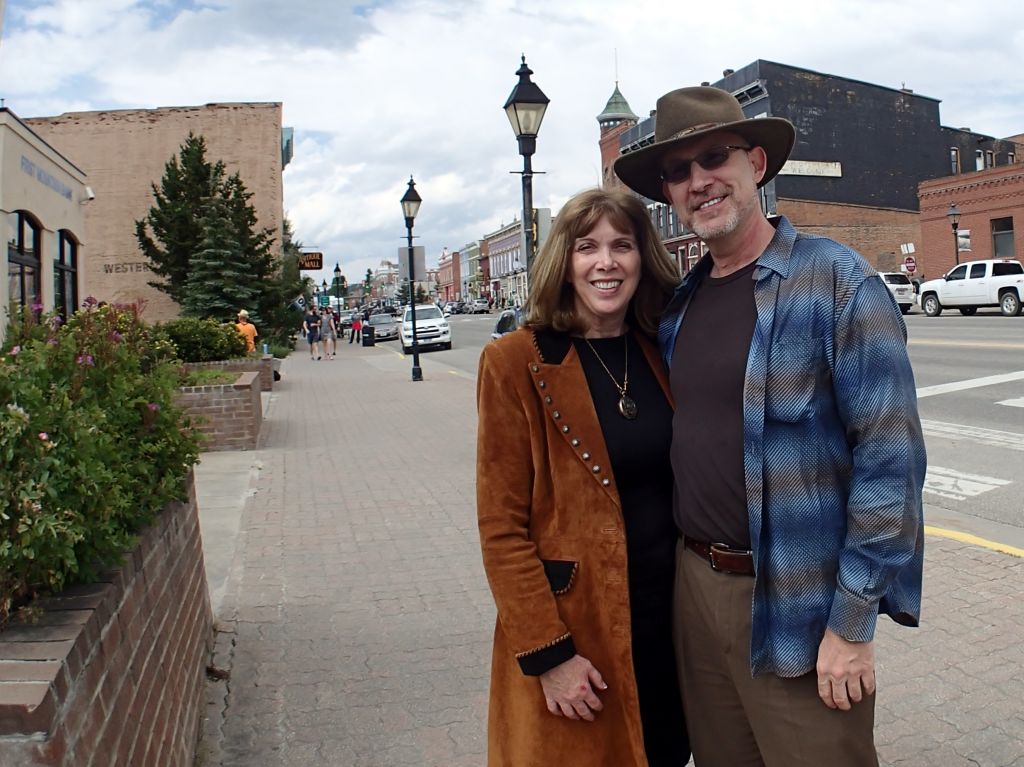 The conference ended on Friday, so Saturday morning we drove southwest to Leadville Americas highest city, where we spent the day roaming the streets and taking in the sights. That evening we attended a Jeff Brinkman concert which was very enjoyable and I'm glad we did it, despite the fact it would cost me the good nights rest I should have had.
Is It 3 AM Already?
It seemed as though I had just closed my eyes when I heard the alarm clock and bounced out of bed. Turns out, I HAD just closed my eyes 20 minutes earlier and the alarm clock was something I dreamed. This unusual event happened twice more throughout the night, costing me even more precious sleep and making my wife very cranky. When 3:00 AM actually arrived, it was warmer than expected, so I reworked my kit removing the heavier items that would not be needed and exchanging them for lighter cooler items. This and the fact that I was still groggy and moving very slowly burned a lot of time. Susan stayed at the lodge during this climb.
The South Elbert Route
I had decided upon the longer southern trail route. The south trailhead was fairly close to the Twin Lakes Roadhouse Lodge where we stayed and I found it without issue. Here is a Google Maps link http://goo.gl/maps/RzChs if you have a 4X4 you can drive all the way up to this marker. Otherwise, you will have to slog up the jeep road. The jeep road was fun, with ups and downs, some giant potholes a few washouts and a water crossing. The trip reports I had read recommended a vehicle with a lot of ground clearance, and I see why. The clearance of the rented 4X4 Suburban was barely sufficient as I would scrape along the bottom at several points. On the way up the jeep road, I was surprised to see half a dozen sites for the intrepid camper, and a few of them were occupied.
Leaving the Trailhead
I arrived at the upper trailhead around 5:30AM and was moving around 5:45AM. I had wanted to be moving out at 4:00AM, to be high on the mountain for sunrise photography, but alas it was not to be. The trailhead was well trodden and easy to follow. The first section was though a sycamore forest, which gave way to a mixed forest. The grade started out fairly flat, and then angled up probably 20-25 degrees before leveling out again above the tree line. The weather was nice and cool, probably in the 40s although I didn't bother to measure it. I was in my softshell pants and shirt with a synthetic base layer up top and was quite comfortable.
Parade?
I had taken a lot of new photo gear, (see my Gear Check post) and stopped numerous times on the way up to try it out. Even so, I still found myself gaining on a group of young and very inappropriately dressed kids. The rearmost hiker wore large red getto shorts (the kind that hang to the ankles), and a sideways baseball cap and the rest were not much better sporting low rise pants, halter tops and miniskirts. It almost looked like a parade. I could not have them in my photos, and they were too many to hike around.  When I slowed to let the. Move ahead, I found myself gaining on them again, so I took an extra long break to let them get far enough ahead.
Sunrise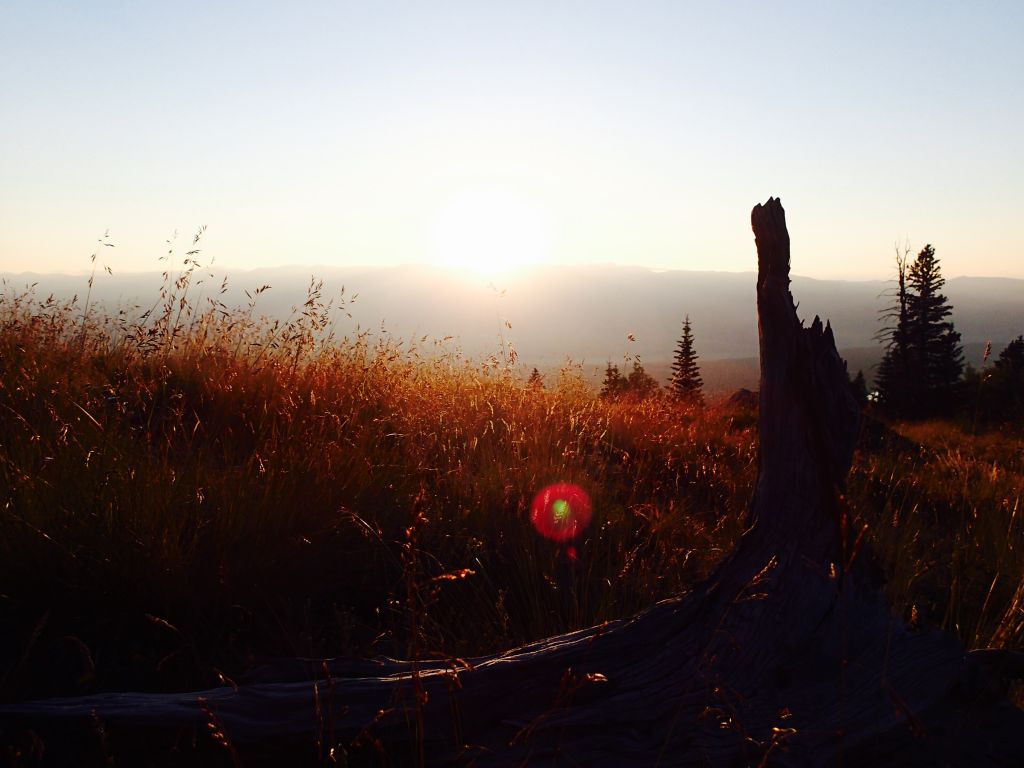 Sunrise came and went around 6:15AM and I was not yet above the treeline. So I was unable to get any sunrise shots of the mountain or the surrounding lakes and valleys as I had hoped. This was a real disappointment for me as being in the mountains at sunrise & sunset has generated some of my best photography.
 Storm Brewing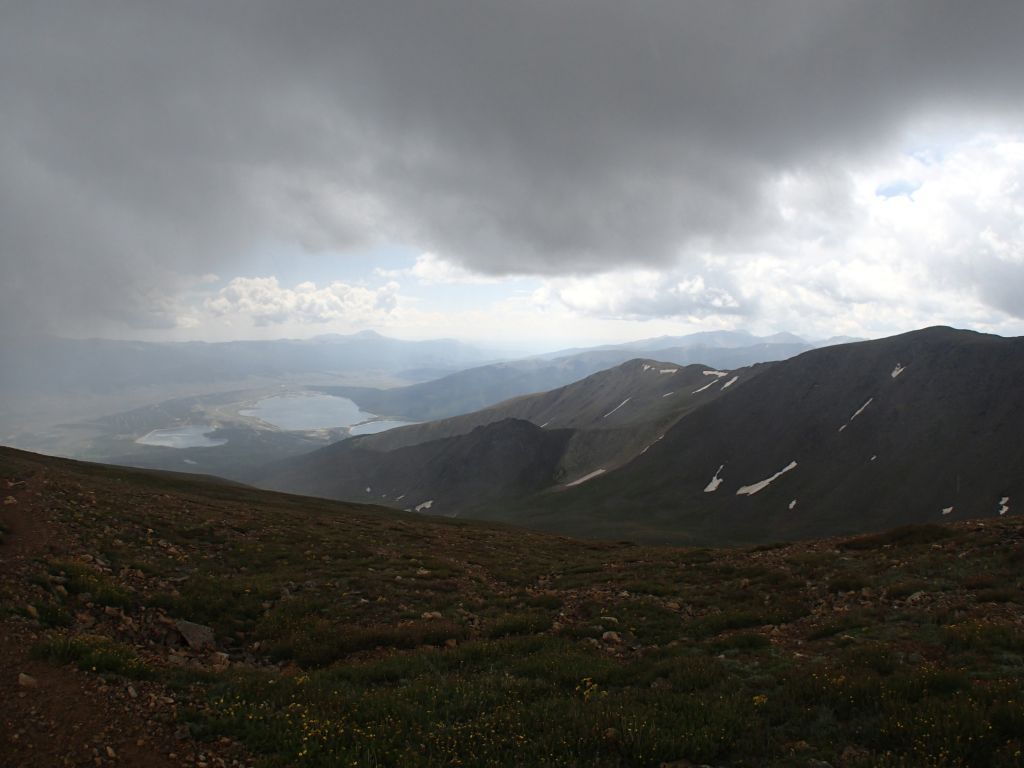 As I approached 14,000′ a storm was brewing and I began to wonder if the storm would chase me down the mountain. The temperature begin to drop, the winds grew stronger and the clouds got darker. I kept an eye out for the flash of lightning and listened for the static buzz that indicates a charge is building around you but it never came.
 At the Summit!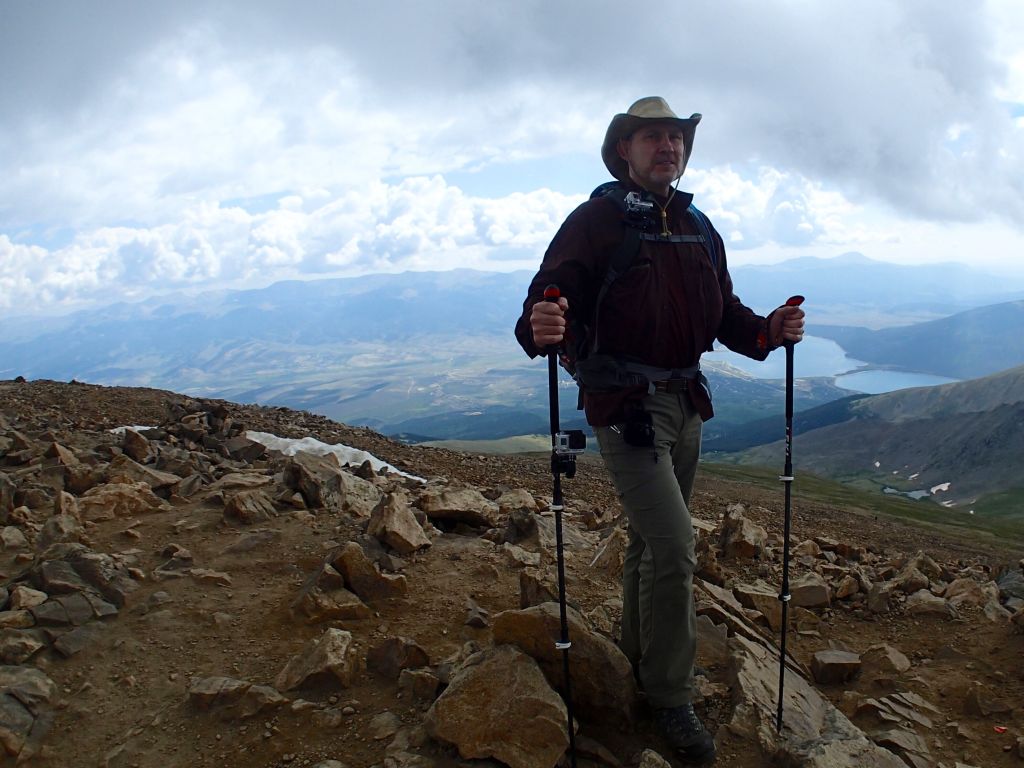 I made the summit about 10:30AM, making my climb to the top in just over 5 hours. There was nothing technical or challenging about the climb. Overall the grade was pretty steep as you would expect, but I felt plenty strong and was able to climb quickly when I wasn't taking pictures or stuck behind a parade.
I typically will spent an hour or more on the summit eating, resting and taking photos, but weather was coming. After 20 minutes it began to snow, and that was my queue to descend. Soon the snow turned to hail, and I had to get my hard shell out. I'm not a big fan of having being beat to death with little balls of rock hard ice, and there was no place to take cover so I hoofed it down until I finally got below the weather where I took my only rest break on the descent.
Easy Going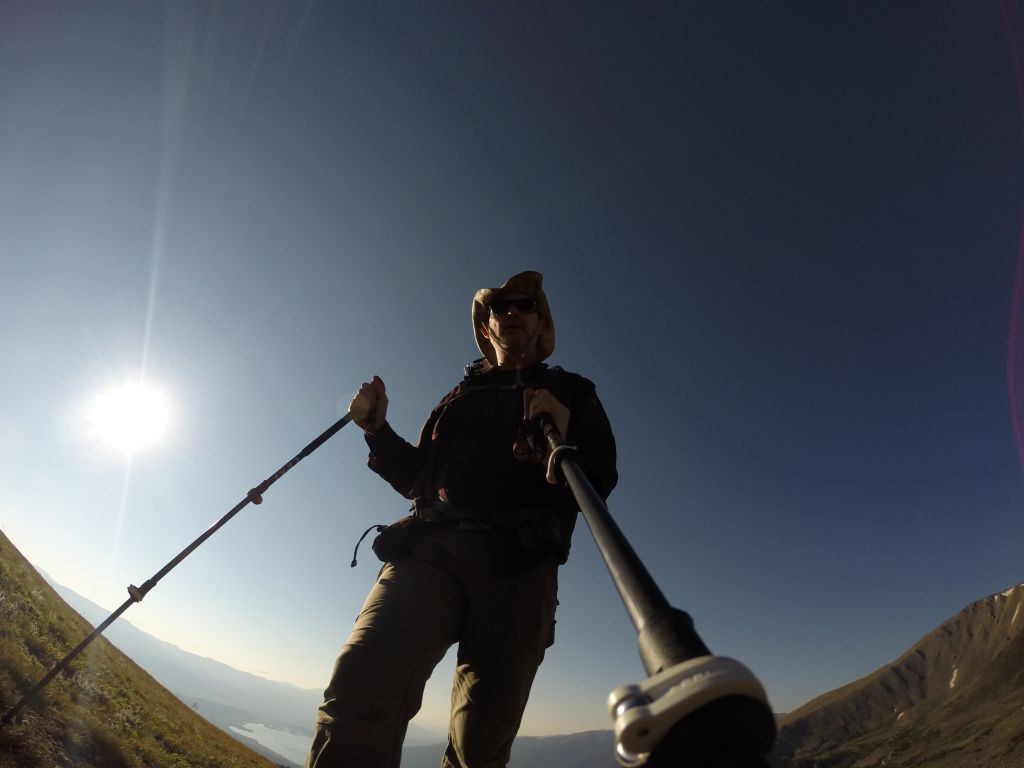 From here the hiking was easygoing. It was still overcast and cool, but the winds had stilled making it very pleasant hiking weather. Having nice weather again, I took more photos on the way down, and there are one or two I like.
Mission Accomplished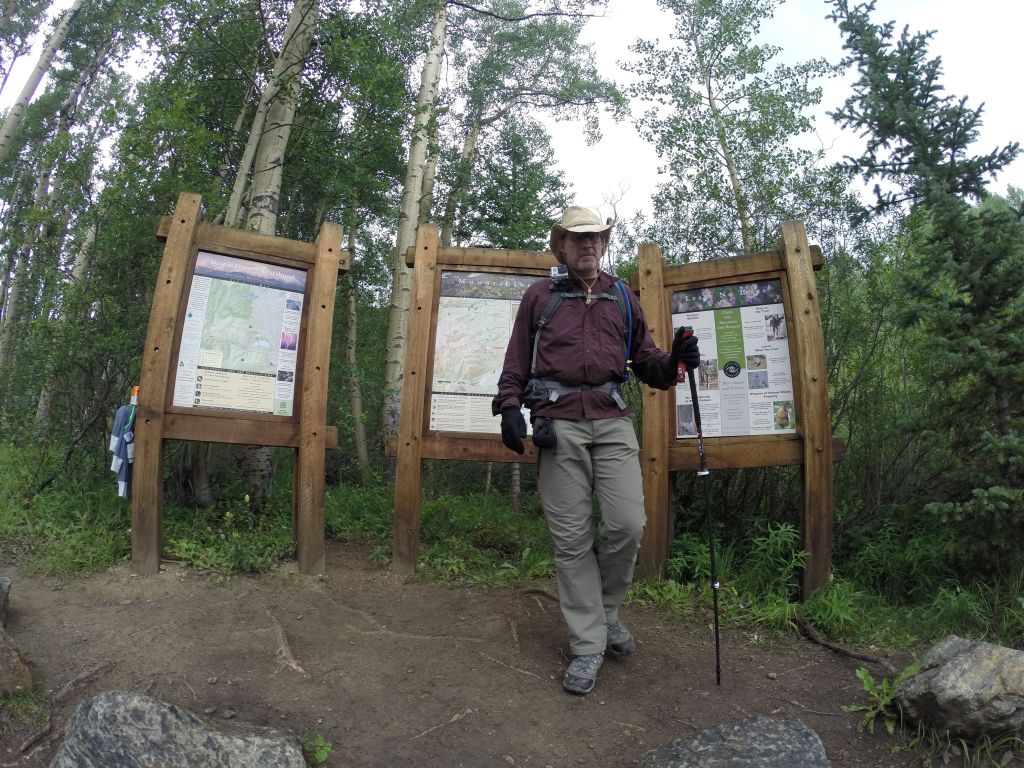 Arrived back at the trailhead at 2:45PM making the round trip in 9 hours flat. I'm sure I burned a couple of hours on photography so if you are using this data to plan your own trip, factor that in. I sustained no injuries, and developed no new aches or pains aside from a few blisters.
Jeff Brinkman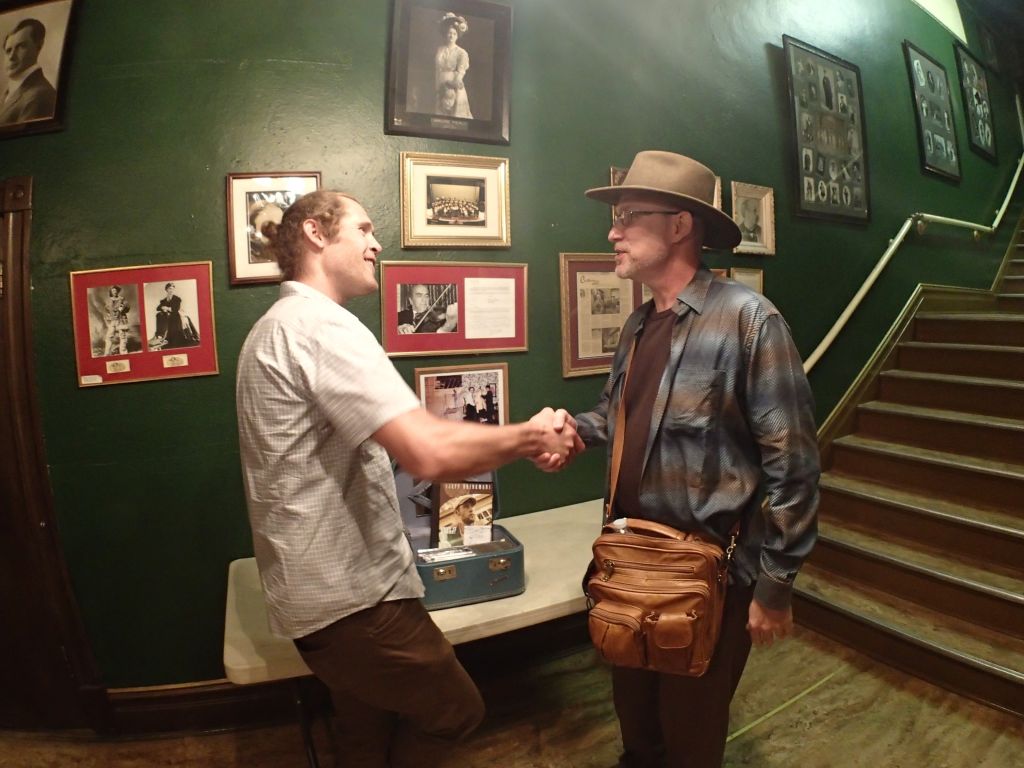 As enjoyable as Jeff Brinkman was, I'll not schedule an evening event before a climb in the future as this put me behind schedule and robbed me of valuable sleep. I was disappointed that I didn't get up the mountain sooner to be in a better photography position during sunrise.
Despite the 4,000′ elevation gain it was an easy and enjoyable one day climb, that anyone of a reasonable level of fitness can manage and enjoy.