Humphrey's Peak Trip Report #1
So I didn't make it to the summit of Humphrey Peak this time, so I will have to go back later and make another attempt.
Highpoint Statistics:
Summit Attempt Date: Saturday, April 16th, 2016
State: Arizona
Elevation: 12,633′
US Rank by Height: 12th
Round Trip Hiking Time: 6 Hours
Highpoint Links:
Posts
Trip Report
To view a sortable table of all of the highpoints with completion dates, trip reports, photo galleries, blog entries an GPS tracks, visit the US State Highpoint Progress Page.
The Story
I had been watching the weather and the mountain only had a light dusting of snow in the weeks leading up to my climb. Then a few days before, it began snowing in earnest, with a large amount the night before my climb. I was surprised at the deep snow on the roads and barely made it up the mountain in the rented Toyota Camry which was sliding all over the place and flashing the traction control light the whole time. Twice I stalled and thought I was done, but managed to get it moving again. I learned that the trick was to drive as fast a possible and let the momentum carry me through the deepest pockets of snow, which was a bit unnerving since I was blinded by snow cascading up the windshield and over the car when I hit these deeper banks.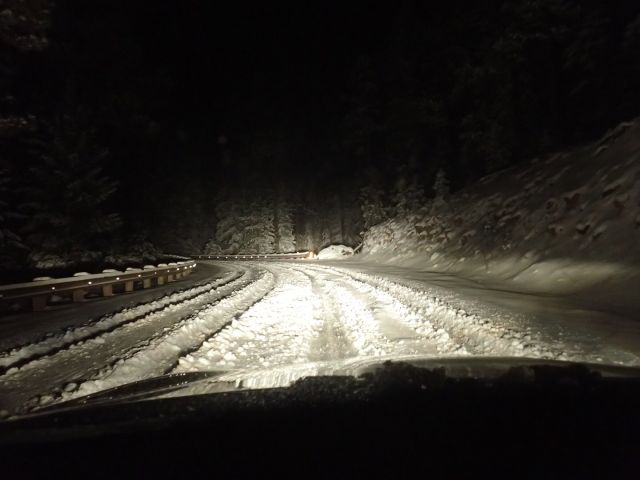 Once I arrived at the lower parking lot, which was also full of snow, I wasn't sure I would be able to get out, so I backed the car just inside the entrance to the lot to give a tow truck a good angle on it. Turned out I was able to get out so this precaution was unnecessary.
Leaving the Trailhead
I left the trailhead at 4:22AM and was in snowshoes from start to finish. Even with them I was sinking into the fresh snow from 4-12″ every step. I was glad to have had the snowshoes as this would have been near impossible without them, but even with them, climbing in soft snow really burns through your energy reserves.
No Trail
To make matters worse, this was the worst marked trail I have ever seen (or not seen) and fresh snow had completley obscured everything. I spent a tremendous amount of time backtracking and looking for the trail. I finally gave up, set some GPS waypoints and just stomped through the woods. This also proved difficult as there was a tremendous of tree-fall and deep snow I have to fight through. So once again I ended up back tracking and giving up the ground I had gained. Eventually I found a way through, but it costs me a lot of time and energy.
The Upper Bowl
I got as far as the 11,000′ upper bowl but the summit ridge was completely obscured by clouds and the wind was incredibly fierce. I huddled behind some rocks withing in a group of trees for an hour and waited to see if the weather would improve, but it never did. The temperature dropped down to 18 and the wind began to intensify to somewhere around 60MPH gusting higher. I estimate it was around -10 with the wind chill.
Weather Says "No!"
When the whiteout conditions began creeping down the mountain towards me, I had no choice but to head back down the mountain to stay ahead of it. I've been caught in total whiteout conditions before, and its a scary thing especially in severe weather since you don't know how long you might have to wait. You typically have to just sit down and wait for it to pass, since you cannot see anything. So I was not about to climb into a whiteout, on an unfamiliar mountain ridge. Especially after seeing how unreliable the trail maps were for this mountain.
So I headed down as fast as I could, taking a different route this time. The weather followed me, but I did manage to stay ahead of it.
Twin Arrows Casino
It was much easier getting the Camry down the mountain, and I got back to the spectacular Twin Arrows Casino where we stayed without indecent. If you are looking for a nice place to stay I recommend it. Be aware, it is staffed by 1,600 Navajo Indians and with a few exceptions, customer service was not their strong suit. But the build out was fantastic with a blending of many different materials, and the food was also good.
Sedona
A trip to this area would not be complete without a visit to remarkable Sedona, so we spent a day and a half there enjoying the scenery.
Back In Houston
So meanwhile Houston was flooding, and some of our friends were hit pretty hard.
It was strange walking through the shantytown that George Busch Intercontinental had become due to all of the flight cancellations.
Our hearts and prayers go out to those of you who suffered loss during the flooding. Please let us know if we can help.