Harney Peak Trip Report
On Saturday August 22nd, 2015 I stood atop Harney Peak with my good friend and climbing partner Rick Overholt who flew up to Climb Harney Peak for the second time. Harney Peak was the second of the 4 state highpoints completed during our 2015 North Central Trip and it was #31 out of the 50 states for me.
It's a dramatic mountain, and I understand why Rick went back again. The climb was easy but interesting for both of us and we found ourselves involved in rescuing lost hikers in the end.
Highpoint Statistics:
Summit Date: Saturday August 22nd, 2015
State: South Dakota
Elevation: 7,242
US Rank: 15
Distance: 7 Miles
Round Trip Time: 6.5 Hours
Highpoint Links:
Photo Gallery
Posts
Trip Report
South Dakota was a delightful place to be, both in climate and scenery. Neither Susan, nor myself had been to South Dakota, so we were both surprised and awed by the dramatic terrain. We also enjoyed the low humidity and cool temperatures. We stayed at the Rafter J Campground which was the largest and most beautiful campground we have ever visited with acres of open green spaces.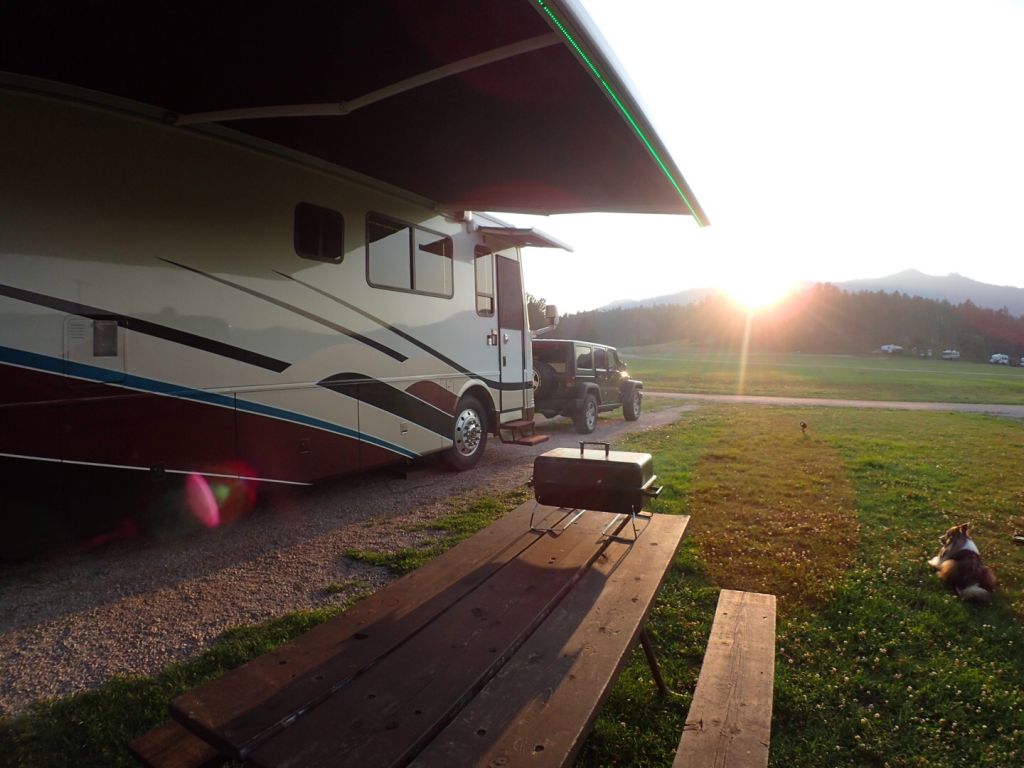 Sunrise Summit Plan 
When we left the trailhead at 5AM it was dark, cold and very, very windy. My preferred hat is leather with gator teeth in the gator hide band and is considered de rigueur for adventuring, at least by me. But alas, due to the high winds I opted for a less adventuresome hat with a strap.
Initially I was planning to be on the summit at Sunrise, which means hiking up in the dark, but Rick convinced me that it would be better to start later so we could see more of the dramatic scenery so we started an hour before the 6AM sunrise which put us midway up when the sun arose. In retrospect, it would have been better to start a couple of hours later as the early morning haze limited visibility.
The Hike Up
We took trail #9 to the summit and came back down on #4 which had much more dramatic scenery and the haze had lifted, so our best photography was on the way down. If I were ti climb it again, I would use trail #4 up and down. We did get an interesting distant view of the summit on the way up #9.
The devastation of the Mountain Pine Beetles is very apparent here. There are thousands upon thousands of dead and dying trees which you will see in most of the photos. I've seen the Pine Beetle infestation in other parts of the US, but this is the worst I've personally seen.
Trail Confusion
It was an easy 3.5 mile hike up, although it was longer for us due to some confusion. On the way up we saw a sign that said "Harney Peak Lookout" pointing to a side trail, and we were expecting a sign that said "Harney Peak Summit". So we stayed on the clearly marked "Harney Peak Trail #9" which took us back down the other side of the mountain. As we got further from the summit and lost a considerable amount of elevation I pulled out my GPS map and saw that the side trail was indeed the path to the summit. Rick does not trust GPS and didn't remember the side trail, so it took a fair amount of arguing and he wasn't convinced until he saw the summit stairs.
Summit Approach
We didn't see any horses and only one hiker on the way up as we were early, but there was quite a bit of horse manure on the trail, and a place to tie horses near the summit, so horses are apparently an option here.
There is a very well engineered stone stairway up to the summit, which Rick calls the "Stairway to Heaven". It makes this a much easier climb, as without it there would be some challenging rock climbing involved.
As we were approaching the summit, we heard a lot of screaming and shouting which grew louder as we neared the summit. Turns out it was a group of 45 students from the New Castle Cross Country Team who were very excited about being on the summit. They were on their way down shortly after we arrived, and the noise went with them. This was not the last we would see of them however.
Wind!
As I mentioned earlier it was a very windy day, and as we approached the summit the wind intensified to ridiculous speeds and I was almost blown down a couple of times while taking photos on the rocks.
Summit Fire Tower
There is a very elaborate stone tower on the summit which was once used as a fire watch tower. It's an impressive structure especially when you consider that every stone was carried up the mountain by man or mule. Here is a link with the history of the Harney Peak Fire Tower.
The fire tower has many interior rooms and we made use of them to get a respite from the wind and have our lunch in peace. We spent quite a bit of time on the summit, but had it not been for the protection of the tower, we would have went back down quickly.
A Beautiful Descent
It was still hazy while we were on the summit but the sky began to clear up as we made the descent. We also took trail #4 down which was much more interesting and took us through some fantastic rock formations as well as offering some scenic views. We couldn't seem to keep our cameras in our pockets. We would stop for a photo, put the cameras away, and around the next corner feel compelled to pull it out again for something even more dramatic.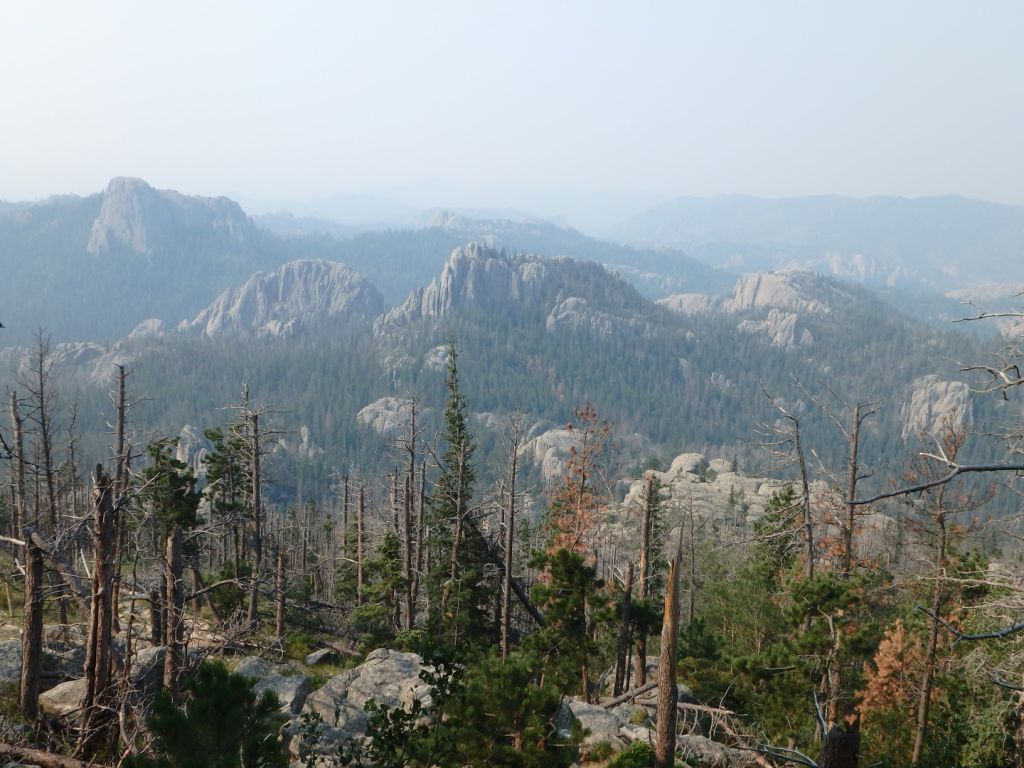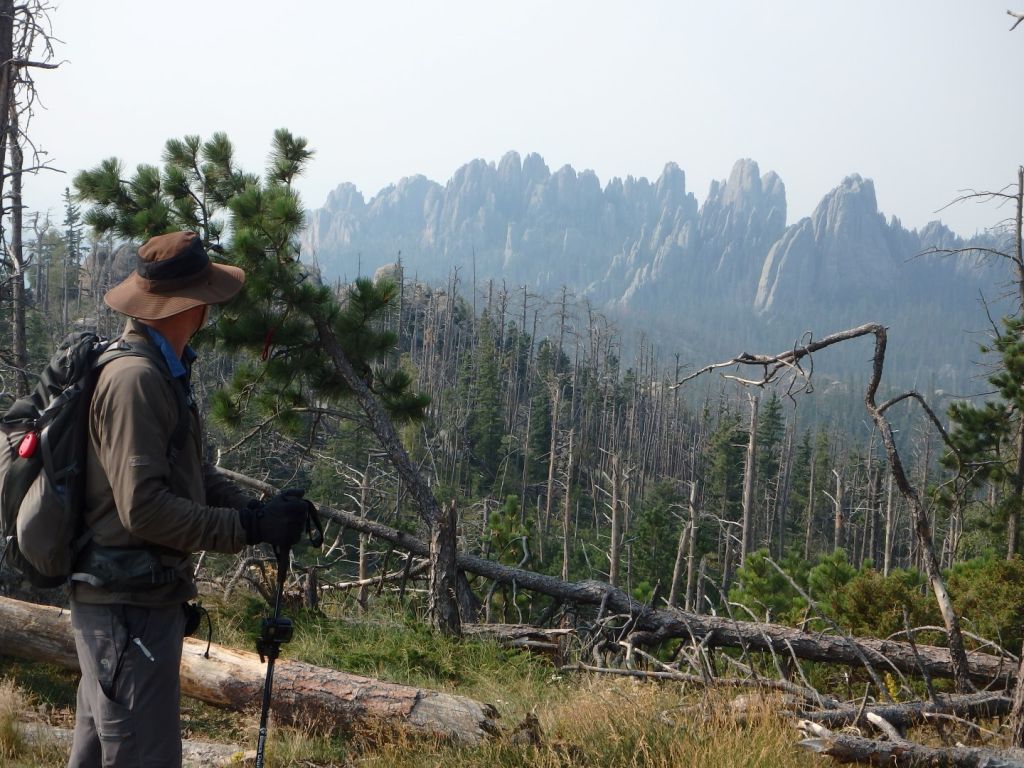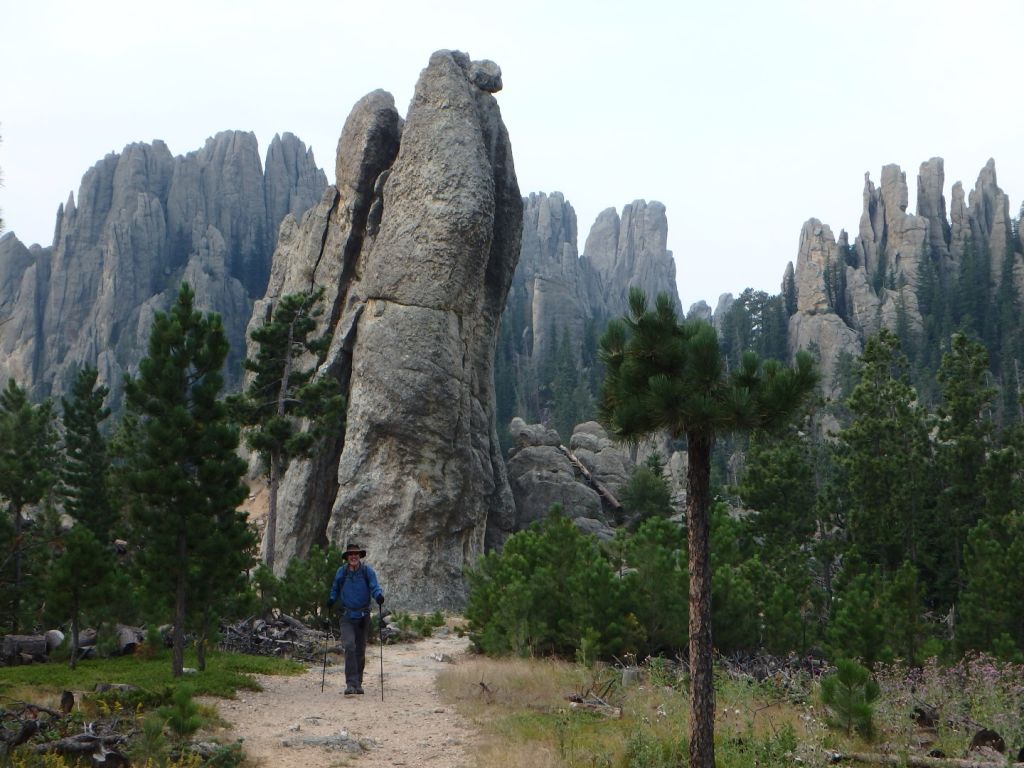 Streets of Gold
The actual trail we were walking on was shimmering in the sun with shiny metallic flakes, it was quite striking and I tried to get some angles but it defied my photography skills. The best I could do was photograph one of the trailside rocks which had the same metallic flakes. Rick thought it was Pyrite, but it was more silver than gold. If anyone knows, drop me a line.
We spotted a rock climber making his way up a distant spire. I shot this with a telephoto lens, that I typically do not carry.
Rick broke the cardinal hikers rule, "Do not pee into the wind" and suffered the consequences.
Lost Students
We arrived back at the trailhead 6 1/2 hours later and noticed several search and rescue teams. We were standing at the rear of the jeep about to dump our hiking gear when a passerby informed us that 3 of the New Castle students were lost on the mountain. We just stood there looking at each other instead of removing our gear. I asked Rick if he was thinking what I was and he said "probably". With that we both walked over to the search and rescue staging area and offered our assistance to the ranger in charge who declined our help. We were both tired and ready to get back to the coach and a hearty meal so this suited us just fine.
So we dumped our gear into the back of the jeep and proceeded to drive down the mountain. After we had driven almost 5 miles down the mountain we passed 3 kids walking along the road. We discussed it and felt that it was not possible for them to have gotten this far so it could not be the missing students, but decided to turn around and check. Turns out it was them, so we loaded them up and delivered them back to the cheif ranger who didn't need our help.
The boys were Aiden 15, Devin 12, Westin 12 and I later got the following messages:
"So thankful to you for finding my boys and their teammate! – Kim"

"Thank you for helping our son find his way home & best wishes on your journey. – Peterson Family"

"Hey this is one of the kids you found. I just wanted to say thanks for everything. – Aiden"
I of course responded with a gracious "your welcome" and sent them a bill for $1,000 per kid which seems more than fair.