Charles Mound Trip Report
On Friday June 3rd I stood at the highest point in Illinois with my good friend and highpointing mentor Rick Overholt. This was my 43rd highpoint and Ricks 48th state highpoint.
Highpoint Statistics:
Summit Date: Friday June 3rd, 2016
State: Illinois
Elevation: 1,235′
US Rank by Height: 45th
Round Trip Hiking Time: 20 Minutes
Highpoint Links:
Posts
Photo Gallery
GPS Track
To view a sortable table of all of the highpoints with completion dates, trip reports, photo galleries, blog entries an GPS tracks, visit the US State Highpoint Progress Page.
The Story
This is an easy one, with very little physical effort required, just a day of driving from Chicago through the countryside and a bit of walking up a gentle hill along a well maintained farm road. The challenge with this one is logistical in nature. It is located on privately owned farmland and it is only open to highpointers 4 weekends per year.
Last Highpoint Trip Together
For the last 6 years Rick and I have done a lot of major highpoints together, and have held each other's lives in our hands, solved life and death challenges, and weathered brutal storms at each other's side, and I don't mean figuratively. Needless to say, we have become very close and this was to be our last highpoint trip with just the two of us, so we added some extra days in to hang out and explore Chicago together. Rick calls this a "man-cation", what else would manly men do?
Summit Day
Yea I know, summit is a lofty word to be using here, but this little hill, well call him "Charlie", could use the confidence boost. Plus, I like the way it sounds so I'm just gonna go with it.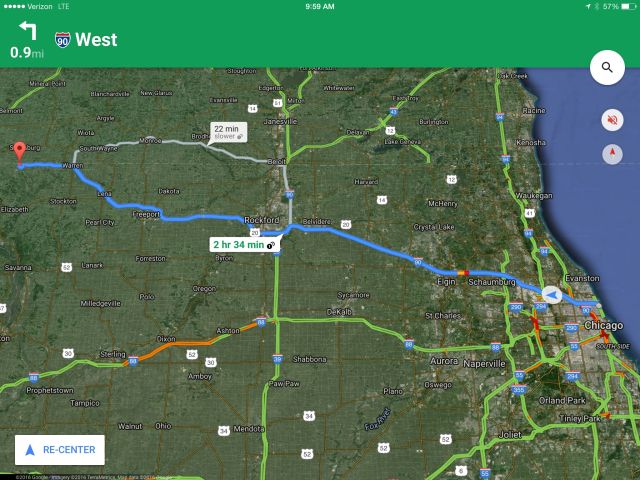 The 3 hour drive from Chicago, took 3 hours… I just wanted to see if you were paying attention. Sometimes you space out a little and I worry about you. At any rate drive was uneventful and we arrived and began walking up the farm road to Charlie's summit (don't judge). It was a beautiful day and a short and easy walk up, especially for a pair of manly men like us.
The High Demand for Manly Men
Incidentally, when we returned to the bottom, we found the Old Spice cologne marketing team waiting for us with contracts in hand. They were crestfallen to learn we had already signed with Dos Equis Beer to take over the role of the Worlds Most Interesting Men. But now I'm getting ahead of myself.
So back at Charlie's summit (don't make me come over there), we took in the pleasant scenery of the gently rolling hills and well groomed farmland from a couple of chairs overlooking the valley. Rick signed the guest register, which I don't usually do, we took a few photos and headed back down. And you already know what happens next.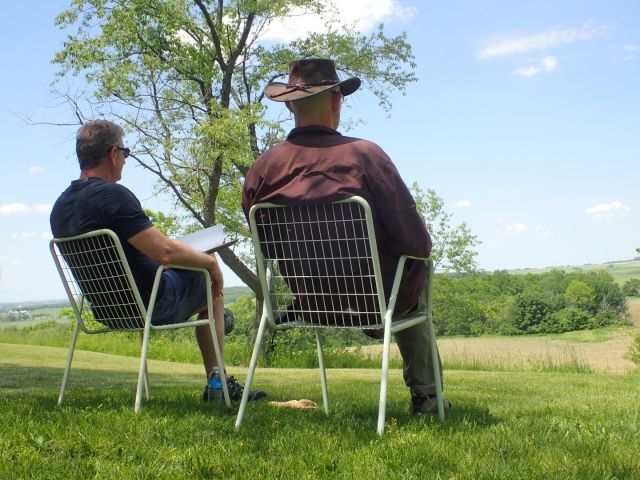 After consoling the Old Spice marketing team, we climbed into our car, which was a very manly Chrysler 300 and fought the traffic back into town, which was much worse in the afternoon. Then we relaxed in the boat recuperating from our long hard summit day and prepared for a relaxing evening in the city.
The Sears Tower
The next day we thought it would be cool to climb the stairs to the to of the Sears Tower. Its now officially the Willis Tower and is actually 800′ elevation higher than Charles Mound. We knew we could ride the elevator, but that's lame, we wanted to climb to the top via the 103 flights of stairs like the manly men we are.
So off we went to explore that possibility. Trouble is there isn't any public access to the stairwell. We aren't opposed to taking advantage of corrupt governance in the interest of highpointing so we even tried bribing some building personnel, but they all turned out to be pillars of morality. We tested utility doors, walked around barriers to try to gain access to restricted areas, but no joy. The only actual stairwell door we could find was on the observation deck but it had an alarm on it. We hoped the batteries were dead like most of those emergency exit doors, but alas, the status LEDs were lit. Drat! Foiled again! I happened to have a magnet in my pocket, so I tried to lock out the door sensor, but ended up triggering the alarm. We decided it was time to vacate the premises before we were detained and waterboarded. There were cameras everywhere, and I'm sure we looked pretty darned suspicious. Anyway, I have been waterboarded before and don't care to repeat the experience.
Then we decided to try the legit route and called a few of the Chicago Entrepreneurs Organization Chapter Leadership to see if anyone could help. We finally spoke to Anthony Ramirez of Lincoln Security Services, who had some connections to tenants in the building. At one point we thought we were going to get e green light, but alas, the red tape took longer to cut than we had, so maybe next time.
So we manned down, shaved our legs and rode the elevator to the Skydeck like all the other tourists and paid $30 for this lame photo. I know right… When Dos Equis heard about it we lost the contract, and now even old spice won't return our calls.
A Walk in the Park
I'm not generally a park guy, I mean parks aren't all that manly, right? But on our final day, we manned down again, (our legs were already shaved) and headed for the beautifully landscaped and mindbogglingly (yep, that's a real word. I looked it up.) massive Millennial Park. This is a must see if you get to Chicago. Be sure to allow a lot of time because there is a lot to see.
There are massive outdoor art exhibits, sports arenas for every kind of sport you might care to participate in, even climbing walls with some wicked routes. We saw what has to be the worlds largest yoga class in session.
There is even a giant shiny chrome bean that reduces people to monkeys who just want to touch the big shiny thing.
The park is miles long, blocks wide and every turn has something new. We wandered around the park and even downtown as well. The park was captivating, and the hair will eventually grow back.
Chicago The City
We loved being in the heart of the city, it was vibrant and thrumming with life all day and into the night. We also enjoyed the quality of the restaurants and there were so many organic options. Everything we wanted to do was withing walking distance. I had a lot of fun performing street magic and made some new freinds.
Goodbye Pal
This report would not be complete without mentioning the sailboat named Pal, and thanking our mountain climbing friend JR Peacock for the use of his classic 35′ Beneteau sailboat. Docked in Belmont Harbor, it was close to the heart of Chicago and made it easy for us to come and go.
The closeness of the boat with the gentle rocking combined with the soothing sounds of the water were relaxing and soothing in a fundamental way. Thank you JR, for making your pride and joy available to us. It was the perfect place to stay during our Illinois adventure and we grew to love that beautiful little sailboat we called home for a few very special days.
Chicago, you surprised us, enthralled us, entertained and charmed us. We will never forget our time here, and you will always have a special place in our hearts.